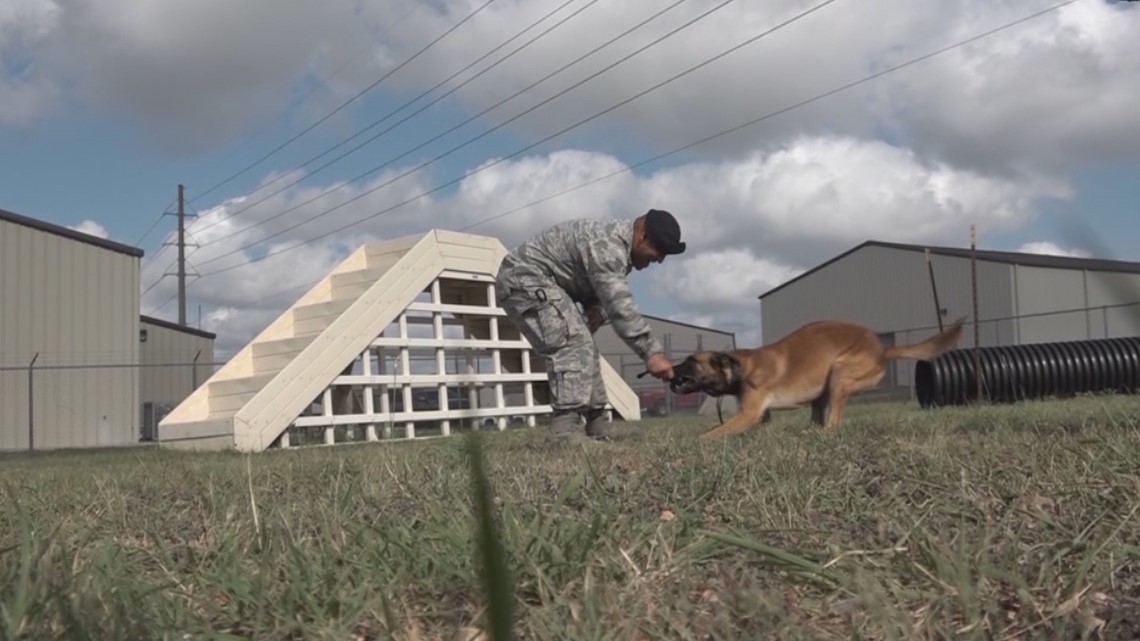 One day after federal agents unsealed a 14-count indictment against the founder of Universal K9, a dog training facility on the city's northside, we're getting an up-close look at how some of these dogs are moving on.
It's a brand new world, but Lexi and Rambo are making it their home. Two weeks ago, these dogs were seized by the FBI. Thanks to ACS, they're now getting a second chance at become working dogs.
"We went down took a look at the dogs and brought seven back, originally. Lexi and Rambo are the two that showed the most potential and we are actively working them for military service," said Major Matthew Kowalski, who commands the 3-41st training squadron at Lackland Air Force Base. "It is the hub for four-legged military working dog training, from untrained to military asset."
At the Department of Defense Working Dog School, it takes about 120 working days to get a dog ready for field work.
"You've got your detection capability, like finding bombs and finding drugs, those are the two sides of the coin," Major Kowalski said. "But we also train them to be obedient to their handler and able to bite work."
A third dog, named Cora, is getting ready to work for the TSA. About 300 dogs a year go through facilities like the one at Lackland, which is modeled after Atlanta's Hartsfield Jackson Airport.
"The more we can replicate their actual operational environment in their initial training, the better-suited they are when we deploy them across the nation," explained CTC Operations Supervisor Danny Diller.
The three dogs were seized when Universal K9 was raided earlier this month. Training these dogs isn't cheap, so getting them from ACS means real savings for the government.
"These dogs, when I ship them out at the end, are expensive, expensive assets. So being able to work with ACS and get them basically for free to start lowers that end cost," said Major Kowalski, who explained that not every dog makes it to full time field work but they're always welcome to stay at Lackland. "Because we've got to have good teachers and our good teachers are four legged."
© 2018 KENS
Source: https://www.wcnc.com/article/news/dogs-seized-in-fbi-raid-getting-second-chance-to-help-people/275-587560547