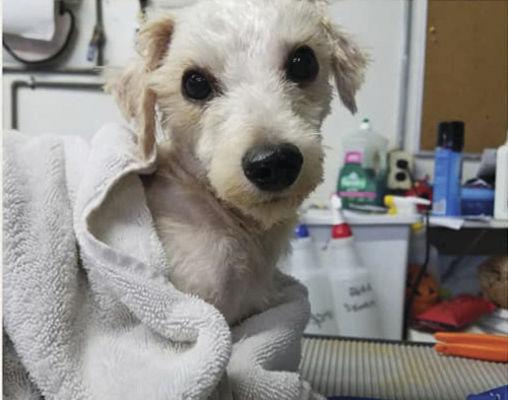 MICHIGAN CITY 'Äď Sunday is National Dog Day, and several pooches at the Michiana Humane Society will be celebrating with treats donated by the staff and residents of a Porter County nursing home.
'ÄúAfter the (dog) hoarding incident in Michigan City, we thought, 'ÄėMichigan City is in our backyard. We have to do something to help,'Äô'ÄĚ said Missy Miller, community liaison director at¬† Chesterton Manor. 'ÄúSo, we had people bring in donations of pet food and supplies for the Humane Society. I know how underappreciated the Humane Society can be and I know how full they can get. I'Äôm sure every little bit helps out.'ÄĚ
The incident to which Miller was referring occurred on July 26, when the Michigan City Police Department found 35 dogs 'Äď 34 alive and 1 dead 'Äď inside a home on the city'Äôs east side during a code enforcement sweep.
One of the homeowners was charged with 35 misdemeanor counts of animal neglect and the other was taken to the hospital in serious condition because of poor health and hygiene.
Michigan City Animal Control removed all the dogs from the home, sending 8 to the Michiana Humane Society, 11 to the La Porte County Small Animal Shelter, and the remaining 15 to the kennels Animal Control maintains.
Local veterinarian Dr. Rex Bailey closed his private practice in order to assess, vaccinate and microchip all 34 dogs.
Animal Control Officer Jason Speakman said Thursday that all 15 dogs in his kennels have been adopted out, and the 11 from the La Porte shelter were transferred to the All 4 Animals Rescue in South Bend.
"Alex, Alexis, Abby, Adam, Allen, Arvin, Augustus, Albert, Alfonse, Aaron, and Andy were 11 dogs that unfortunately had a rough start to life," a post on the rescue's Facebook page said. "They are now fully vetted thanks to La Porte County Small Animal Shelter."
A later post added, "Tonight our Dogs from the Michigan City hoarding case got spa treatments/groomed. They look amazing and act like different dogs already!"
Becky Blackmun, staff veterinary technician at the Michigan Humane Society said a 5-month-old puppy they took in after the hoarding situation has been adopted. The other seven dogs are in foster care 'Äúessentially learning how to be dogs,'ÄĚ she said 'Äď learning house training, walking on a leash, being outside, and how to interact with humans and other animals.
Regarding the donation Miller brought in on behalf of Chesterton Manor Tuesday, Blackmun said, "It's extremely warming to us to know that our community stands behind what we do.
"There are so many behind-the-scenes things we do that people don'Äôt know about. Stepping up our enrichment program is something that we'Äôre working on right now, and things like bones and stuff like that help tremendously because they'Äôre easy rewards we can give and we go through them very quickly.
"So, it'Äôs nice when people contribute what they can to help us to what we do. It'Äôs a nice working relationship that we have with the community.'ÄĚ
Source: https://www.thenewsdispatch.com/news/article_bd6e2db0-b110-5533-8fe3-ae6660ef9473.html