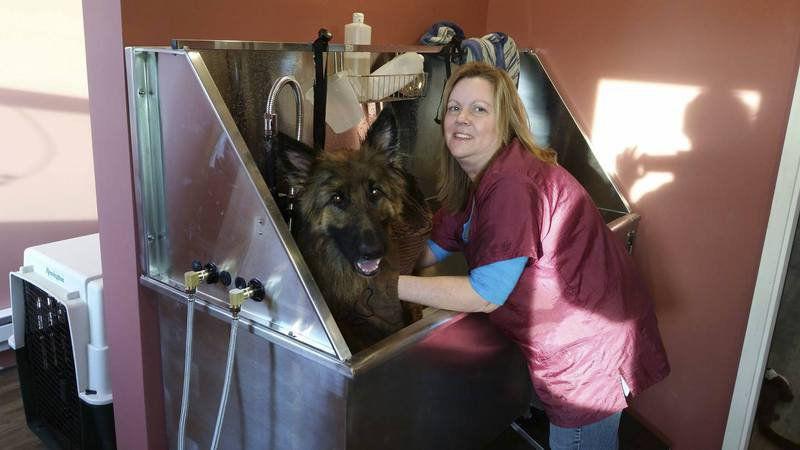 ANDOVER — Jolene Creed, who recently opened the Perfect Pet Dog Training studio in Andover, said the job is "25 percent dog training and 75 percent people training."
"When I trained my first dog 25 years ago — it was a little cocker spaniel — I fell in love with the process," she said. "It's kind of been a goal of mine for quite some time."
But the former 25-year bookkeeper is no stranger to an ornery canine. Six years ago, she sought help with her troubled pooch from Lee Hamilton of Man's Best Friend Dog Training in Madison and spent six months learning advanced training techniques.
The four-legged members of her household have since grown to include one large, long-haired German shepherd, five spaniels and two shih tzus.
"My husband said, 'no more dogs in the house,'" she said — so not long after her 2014 retirement, she opened her own training, daycare boarding and grooming studio off their Andover home and alongside Mega-Byte Computer Services, which her family also owns.
Creed's month-long lesson plans include extended boarding stays with dogs who've already been through her training, then some wraparound lessons using an electronic collar in the dog's home, to confirm their corrected behaviors.
The kennel has housed up to 13 dogs in the past and she's able to add more space as needed, she said.
But Creed also does private appointed training sessions seven days per week — though less often on weekends — which continue over an average two-month span. There's no beginner, intermediate or expert level courses, she said.
"You're getting a 'finished' dog when I'm done. It's not just puppy classes," Creed said. "When I do have a dog for that month, I do get very attached to them. But it's a quick turnover to having their owners follow suit and do the same things I'm doing."
The toughest customers are the ones that bite — only because "then you'll have to get tough with the dog," she said. Dog owners and trainers can't avoid improper behavior — such as food aggression or rambunctious leash-pulling — or coddle pups with anxiety issues, because it only reinforces those behaviors, she said.
She said she meets those issues head-on.
"Before you can address a lot of the problems, they have to see your position as leader," Creed said. "That's kind of my motto: 'Helping people and dogs live in harmony … through love, leadership and discipline.'"
Otherwise, the job's "pleasant," and when she finally takes her leave and sees dog owners obeyed by using her process and tools — "it's wonderful." With a dog that's well-trained, there's "endless possibilities," she said. 
Deborah Powers of Westford, Pennsylvania, said she wasn't sure what to do with Max, the spirited young boxer she rescued one dark night from the middle of the highway with no collar and no apparent owners.
The 63-year-old said she was looking forward to a dog in the family, but quickly found him too much to handle — especially when he spotted another dog he wanted to meet and dragged her, leaving her injured.
"I was saying, 'We have to give him up.' He was just too powerful for us. He would run every chance he got loose," she said.
Upon meeting with Creed in November, Creed agreed the dog was a bit much for Powers and her 71-year-old husband. But for Powers, relinquishing Max to a shelter — and possibly euthanasia — was out of the question.
"We did a full training course with her. Lo and behold, today, that dog goes to her daycare and he is now socially acclimated to other dogs," Powers said. "I walk him off-leash now and it's just incredible what has transpired. She worked wonders for us.
"We were about to give him up and give up hope, but she gave us a new life with him. I can't thank her enough," she said.
To reach Perfect Pet Dog Training at 6440 Gibbs Road, Andover, call (888) 739-2180, or visit the studio's Facebook page at Facebook.com/lovedogtraining.
Source: http://www.starbeacon.com/news/local_news/dog-trainer-opens-perfect-andover-studio/article_e4e836a7-d4b4-598f-a294-874046ddf10b.html