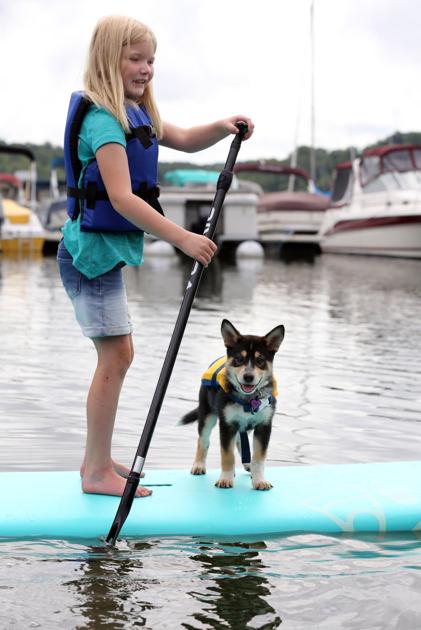 CLAYTOR LAKE 'ÄĒ Maple the pup is not sure she wants up on that crazy, floating board. She barks, she hesitates, but when she'Äôs aboard, she loves it.
A little hesitancy is normal the first time a dog is introduced to stand-up paddleboarding (SUP), says Mike Valach, owner of Mountain 2 Island Paddleboard Company on the lake.
But dogs are, well, dogged, and they'll try hard if it seems to please you.
'ÄúMake the dog'Äôs first experience with the board fun,'ÄĚ Valach says. 'ÄúUse praise, use treats, if you have to, and relax. Don'Äôt force it.'ÄĚ
Valach teaches folks to stand-up paddleboard with their dogs. He recommends the owner first have a basic level of competency on the board or it will be a frustrating experience for both.
On a hot afternoon, you can see paddlers gliding along with their four-legged companions at the Claytor Lake Marina in front of Mountains 2 Island's shop. Some dogs sit between their owner's legs, ears flapping in the breeze. Others stand regally at the front of the board like a figurehead at the prow of a ship. Some stalwart souls may sport two small dogs on one board, the pair scurrying back and forth expending more energy than the paddler.
'ÄúNinety-five percent of the dogs we train get on the paddleboard within a few minutes,'ÄĚ Valach said. 'ÄúSome will take a little more time.'ÄĚ
He recommends starting in shallow water and outfitting your dog with a life vest. The vest gives the owners and the dogs peace of mind if the pooch should accidentally fall off. The vest also provides a convenient handle to lift the dog back on board.
Maple, a husky/blue heeler mix, seems fascinated with her ride for the first 15 minutes, as she barks at other paddlers, paces the board, and scouts the route from her standing position at the front of the paddleboard. Then she decides to swim and abandons ship.
'ÄúGrab her,'ÄĚ shouts her master, Ahna Valach, 8, Mike'Äôs granddaughter.
But Maple has her own plans. She dog paddles under the dock and out the other side, heading toward terra firma. Mike Valach pulls her out, but the lesson is clearly over for awhile.
Mike Valach's own dog, Rasta, waits eagerly for his own turn in the limelight. He will ride with Mike on a large paddleboard. At 105 pounds, Rasta vastly outweighs the granddaughters, and both refuse to take him on their boards.
'ÄúBalancing could be tricky for them with a dog this size,'ÄĚ Valach said. 'ÄúHe'Äôs so big; you really feel it if he moves around.'ÄĚ
Luckily, 7-year-old Rasta doesn't mind sitting. When the golden retriever was four months old, Valach introduced Rasta and his brother to paddleboarding on a seven-day, 25-lake paddling tour of West Virginia.
'ÄúWe called it the 'ÄėSoggy Bottom Tour'Äô'ÄĚ Valach said. 'ÄúThey did fine. The dogs just seemed to know what to do pretty quickly.'ÄĚ
Dog paddleboarding is still something of a rare breed on the stand-up paddleboarding scene, but Valach says he's seeing more and more people who want to share their sports with their canines. All Mountain 2 Island's paddleboards are covered with deck pads to give the dogs traction.
Valach allows dogs on all his rental boats as well. In addition to SUPs, the company offers daily, weekend and weekly kayak and canoe rentals, pontoon boat rentals and electric boat rentals. They also offer free lakeside delivery and pickup.
Valach and his staff are able to teach a variety of classes at the Claytor Lake Marina as well as at Smith Mountain Lake and, in the winter, various community pools. Beginning SUP paddling is popular 'ÄĒ Valach estimates he introduces 700 people to the sport each year 'ÄĒ but the company also leads fitness and yoga classes through In Balance Yoga and CrossFit Blacksburg.
Mountain 2 Island hosts a Wednesday night social hour and a full-moon paddle tour on Claytor as well as two 'Äúfun'ÄĚ paddleboard races. In July, Valach hosted Claytor Lake'Äôs first 'ÄúPaddle Up Concert'ÄĚ on the water with the Jared Stout Band. The floating concert attracted 120 canoes, kayaks and paddleboarders.
SUP, an ancient form of surfing, has its origins in the legendary waves of Hawaii. Stand-up paddleboards, which resemble surfing's longboards, stretch 9 to 14 feet and are geared more toward balance than speed. Paddlers move through the water with a single long paddle.
The sport has taken off in the past 12 years, thanks to celebrity advocates such as surfer Laird Hamilton and the fact that SUP is easy to learn. It's not overly technical and doesn't require great fitness levels.
Farther out in the marina's cove, Andrea Lengi and her collie, Audie, practice their paddleboarding techniques. Lengi, owner of All-American Dog Sports in Blacksburg, runs agility training for dogs and Audie is somewhat of a show dog. But today they're just relaxing on the water.
'ÄúEverything is more fun with dogs,'ÄĚ she says.
Mountain 2 Island operates out of locations at Claytor Lake State Park, Smith Mountain Lake, Radford and Pulaski's Gatewood Park. For information, see www.mountain2island.com or call 230-2023.
Source: https://www.roanoke.com/news/local/pulaski_county/dog-paddling-the-claytor-way/article_a61d76ef-d00c-511f-be5d-dbad21338765.html