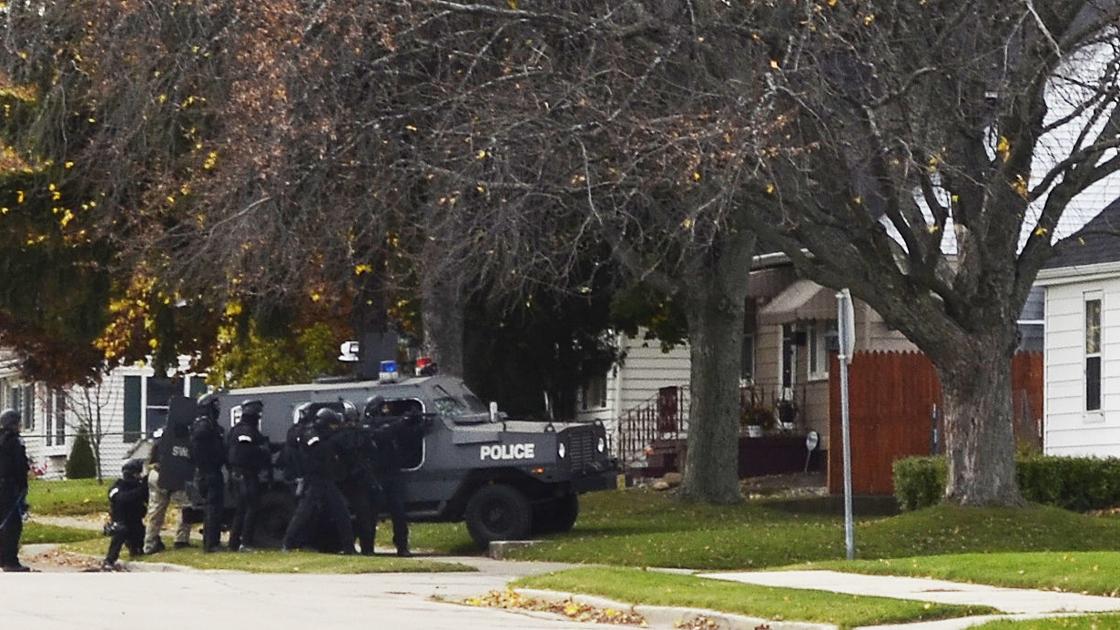 A 2-year-old American bulldog named Sugar jumped off the couch and ran down a hallway to a bedroom to hide after a Racine police SWAT team entered the home of Sara and Joseph Harmon to execute a no-knock search warrant in November 2016.
Instead of closing the bedroom door to contain the dog, a SWAT team member standing in the hallway killed Sugar with five shots from his M4 assault rifle after she appeared from behind the bed and advanced toward him, according to police and legal documents.
Sugar was the 13th dog that Racine SWAT teams had shot and killed during 22 encounters with dogs during tactical incidents — including executing searching warrants — from 2012 through 2016, Racine police records show.
Racine Police Chief Art Howell said dog-shooting incidents by his department are "statistically rare" in a January 2017 email to the Racine Journal Times that accompanied the release of a departmental administrative review that determined the shooting of Sugar was justified.
The Harmons are suing the city of Racine and four Racine police officers in federal court claiming their rights to be free from unreasonable seizures and excessive force were violated when their dog was killed during the execution of the warrant. The search warrant was issued as part of an investigation into a shots-fired incident weeks earlier. The search netted no evidence of illegal activity and no arrests were made, Racine police said.
"Police must protect themselves and the public from dangerous dogs," said the Harmons' attorney, Andrea Farrell, of Madison. "But they can't and should not be shooting a dog just because they are not sure what their intentions are or if there's any other method to contain or deal with a dog other than shooting it. Shooting a dog is irreversible. It's not a mistake that can be corrected later."
Racine police Sgt. Ryan Comstock, who was identified in the complaint as the officer who shot Sugar, was listed as a defendant in the lawsuit filed in February in U.S. District Court in Milwaukee. Sgt. Robert Thillemann and investigators Chad Stillman and Donald Nuttall are also listed as defendants.
An amended complaint filed last week maintains that Stillman lied and omitted key information in his affidavit to the Racine County Circuit Court requesting the search warrant. Police investigators "never would been granted access to the house had they been fully forthright and honest with the judge in seeking the warrant," Farrell said. "And, of course, if they're not in the house, they're not going to have access to the dog that they shot."
Stillman is a defendant in another federal civil lawsuit also filed in February in Milwaukee. The family of Donte Shannon claims in the lawsuit that Shannon's civil rights were violated when the 26-year-old man was killed in a shooting confrontation with Stillman and another Racine police officer, Peter Boeck, in January. Stillman and Boeck were cleared of any wrongdoing by Racine County District Attorney Tricia Hanson in March following an investigation by the state Department of Justice.
Racine police spokesman Sgt. Adam Malacara said the department had no knowledge of any allegations made in the plaintiff's complaint. The Racine City Attorney's office did not return calls seeking comment.
Non-fatal options
Racine police had plenty of options available to them to contain Sugar in addition to closing the door to the bedroom where the dog was hiding, Farrell maintains.
The copy of the SWAT team's weapons discharge review of the incident obtained by the plaintiffs said several team members were carrying Tasers and a diversionary device. Both items are used by law enforcement agencies to contain animals, Farrell said. Also, all SWAT team members were warned prior to executing the search warrant that a large dog may be inside the home, according to the weapons discharge review.
Comstock's intention was to contain Sugar in the bedroom and "hope that a cooperative resident could be brought up by officers to handle and sequester the dog in a secure room," the SWAT team's review says. But after Sugar emerged from behind the bed and began to approach him in an aggressive manner, Comstock fired three shots at her, according to the review.
More courts are making it clear to law enforcement agencies that they can't shoot a dog unless they've exhausted all other means to contain it, according to a national expert on dangerous dogs, canine aggression and fatal dog attacks.
"The courts are saying to them that if they could have avoided killing the dog, there's going to be a downside, a penalty for that," said Jim Crosby, director of canine encounter training for the National Law Enforcement Center on Animal Abuse. The agency is an arm of the National Sheriffs' Association.
One reason is that the numbers are working against the dogs. Crosby said no police officers have been killed by a dog since 1932, yet the U.S. Department of Justice estimated in 2011 that 10,000 dogs are killed annually by police and the primary reason is that they fear for their safety.
Federal court judges also are putting an emotional value to the personal property aspect of Fourth Amendment cases like the Harmons'. "The value of these settlements are climbing strongly," Crosby said.
Last week, the National Sheriffs' Association announced it was offering a new police training program for dog encounters that focuses on the non-lethal options available to police officers when they are confronted by an aggressive dog. Studies have shown that pepper spray is 100 percent effective when used to contain dogs, according to Crosby.
"A lot of the training is simply informing the officers that the same tools they've been using for an entire career and the same principles about using the least amount of force necessary applies to animals, too," Crosby said.
Many SWAT teams are also training to work with animal control specialists when they execute search warrants and other agencies are training with fire extinguishers or large bulletproof shields, he said.
Crosby said Comstock should have closed the bedroom door. "You close the door, the team clears the rest of the house, and then you do something radical: You make a plan and then you follow the plan so that you only use the minimum force that is necessary to accomplish your goal," he said. "Don't escalate things, deal with things. Use your other tools that you have and that you already know how to use."
Prior to shooting the Harmon's dog, Racine police had already taken a public-relations hit in 2014 when SWAT officers shot the dog of Kurt Hanson after a long standoff in front of Hanson's home. A video of police shooting the dog as it was walking away from them was published by one of Hanson's neighbors led to some protests.
Crosby said some law enforcement agencies don't understand how the public's confidence in them erodes when they shoot dogs.
"If a community feels like the police department doesn't care about these dogs that are members of their families, that affects their relationship," Crosby said. "If they feel like the officers are busy circling the wagons and covering up actions, that effects the entire operation of the police department and it can even affect officer safety."
Prior dog shooting
Sugar isn't the only dog Comstock has shot while working as a Racine police officer. According to the Harmons' amended complaint, in 2015 Comstock killed a dog after it nudged a door open and came out looking confused during the execution of a warrant. Comstock was not disciplined, counseled or retrained after the incident, the complaint states.
As for the shooting of Sugar, the amended complaint's version of the incident differs from the SWAT team's review in some key points
The SWAT team's version says Comstock fired the first three shots from his assault rifle after Sugar suddenly emerged from hiding, growling and with her teeth showing, and then charged in his direction. The complaint says Sugar never growled, barked or acted aggressively and was shot the first three times while facing away from Comstock.
Both versions agree that Sugar jumped onto the bed after she was shot. The SWAT team's review says Sugar "came back at" Comstock at that point, forcing him to fire a fourth shot into her. The complaint says Sugar wet the bed because she was in so much pain and fear and that's when Comstock fired the fourth shot into her.
Comstock fired a fifth shot — into Sugar's head to put her out of her misery — after he said she had collapsed on the bed and was "breathing heavily with her eyes open," the review said.
The review said the dog — which it identified as "either a pit bull or pit bull mix breed" — had several wounds, including to the top of the neck, behind the neck and to the body. Three casings were found near the doorway while two casings were found inside the bedroom, according to the review. At least one bullet went through the bedroom wall and into an adjacent bedroom, the review said.
Source: https://host.madison.com/wsj/news/local/crime/dog-killing-racine-swat-team-targeted-in-federal-civil-suit/article_b506fa03-8d77-5c78-94be-0f6fceef5588.html