Through a new partnership, dogs from the city animal shelter are getting workouts and boosting their chances of getting adopted.
The Denton Area Running Club and the Linda McNatt Animal Care & Adoption Center have teamed up to take dogs on runs. Meanwhile, the volunteer runners can get a sense of the dogs' personalities and provide feedback.
Nicole Lopez, an animal control officer, said center officials have wanted to start a program like this for a while, but couldn't find a way to fund it.
"[Going out on runs] makes [the dogs] seem more adoptable," Lopez said. "It not only gets the dogs out of the kennel, but it also kills two birds with one stone. [They get] obedience training and [the run] calms them down for when they get visitors."
A handful of dogs have been adopted since the new program began a few weeks ago. The dogs are taken for runs, walks and even swims at North Lakes Park.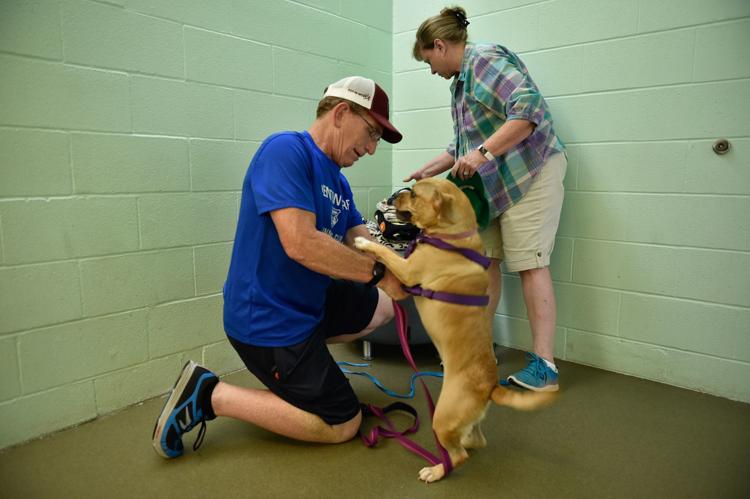 Denton Area Running Club members Mike and Mary Foreman prepare Bailey, a pug-beagle mix, for a walk Tuesday at the Linda McNatt Animal Care & Adoption Center in Denton. The Foremans have been walking with pets from the shelter since the club started a new program that helps better prepare dogs for adoption by taking them for walks or runs.
Sarah Goedecke was the running club member who pushed the program forward.
"In time we hope to help provide more information to make these dogs more adoptable," Goedecke said. "Each time we visit the shelter, we hear another story about a dog getting adopted."
One walk is not enough for some dogs. High-energy dogs are not easily adoptable, but they calm down after a run and it shows potential adoptees "their real personality," Lopez said.
DARC founder Tony Roman said the running club has been trying for a couple years to get a program like this started, but they never "got it up right." Roman founded the running club as the Denton Social Run in 2014. It became the Denton Area Running Club in 2015.
"It's a good way to get out and get the dogs active," Roman said.
Goedecke said that at first, she wasn't sure how to go about getting the program started.
"I made contact with the volunteer program [at the shelter]," she said. "I realized I needed to really reach out to the shelter to let them know exactly what we were trying to do."
While doing research, Goedecke found out about Austin's RuffTail Runners. Its goal is to get dogs out of their kennels for exercise and fresh air, according to its website.
Goedecke said RuffTail Runners provided "a lot of guidance" on how to create guidelines and an orientation program. Lopez said she created a draft for an orientation program after talking to Goedecke.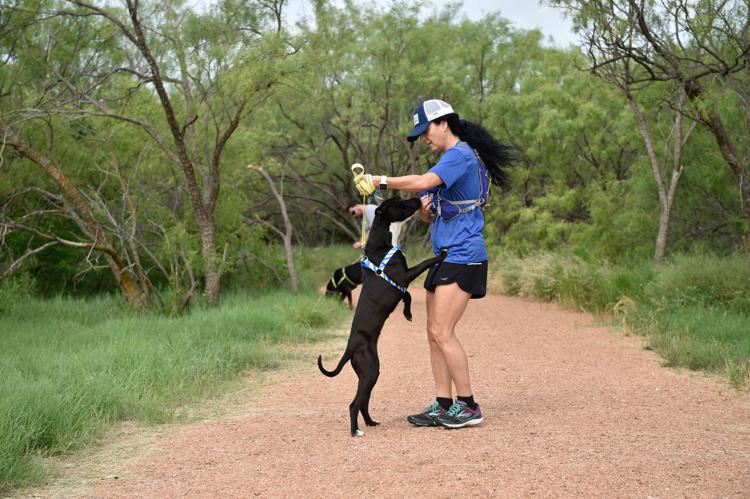 Denton Area Running Club member Denise McNally takes Coco for a walk Tuesday outside the Linda McNatt Animal Care & Adoption Center.
The orientation classes are about an hour and a half long. The classes show members basic first aid, what to do when they go into the shelter, how to approach the dogs, and how to handle and care for them on the trails. They have had three classes so far and are gearing up for more.
Roman said the running club pays for the running gear — waist harnesses and leashes — and treats for the dogs through funds from membership dues, which are $24 per person, or $35 for a family.
Lopez said the club plans to expand the dogs' training to more specific areas when the group has more members, such as how to handle dogs that are more aggressive or shyer. Aggressive dogs currently cannot be taken on runs.
The running club also has taken to posting photos of the dogs they run with on their social media pages, giving information about the dogs and their personalities. These posts are meant to help the dogs get noticed and hopefully adopted.
Running club member Mike Foreman said he could not wait to sign up for the program. He was in the first orientation class.
"You know you're helping [the dogs] out and at the same time as a runner, you're doing something you love," he said.
Foreman has three dogs at home and is not looking to adopt another, but he said it has been great to work with the shelter dogs and learn their stories. Roman said Foreman has been the most active at getting the dogs out for runs.
"Some of the dogs I've dealt with just don't trust [people] anymore," Foreman said. "They could be coming from homes that don't want them, dump dogs, or someone just got tired of them for no reason at all."
Foreman said part of the club's work has been to help the dogs trust people again before adoption. He said after interacting with them for a while, "they're not that timid anymore."
"We're just trying to help," Foreman said.
Source: https://www.dentonrc.com/news/denton-running-club-animal-shelter-work-together-to-get-dogs/article_e4f9ec6a-9b43-5d00-a241-e169289c2152.html