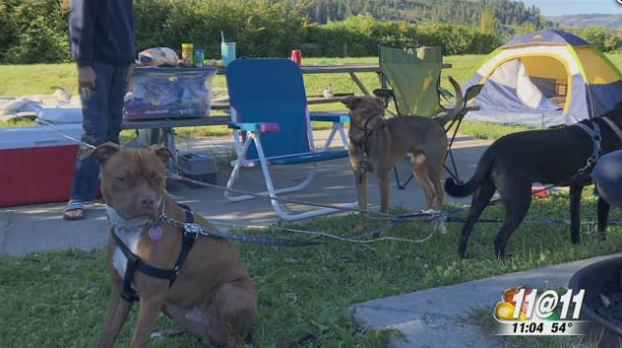 COLBERT, Wash. -
It's hard to tell from the cell phone video taken by Adam Rucker's neighbor, but look closely and you'll see him holding his daughter, Ellie.
"That's our neighbor and his kids, and they can't go inside their home because those two dogs jumped the fence again," the neighbor said in the video.
You'll also see someone in an orange shirt, frantically running around Rucker and his daughter. That's someone from the house where the dogs came from – specifically, the owner of a pitbull at the center of a neighborhood-wide scare.
"A pitbull-mix and another brown dog started circling us and one of the dog owners sons, I believe an 8th grader, hopped the fence, trying to get the dog's to get back to their yard… But was unsuccessful in getting them. They were barking, being very aggressive and one of them bit my daughter in the face," Rucker said.
Ellie is still recovering. Her eye is still too swollen to open and is scheduled for a medical examination this week.
With the attack happening in a field right behind their backyard, Ellie's injury hits home for the Rucker's. But according to both the household and other residents in the area, part of the neighborhood is concerned with the backyard from where the dog's jumped from – specifically, a fence they believe is too low.
"This is very much a community concern with these dogs being there, having a history of jumping over the fence and now have a history of biting my daughter, attacking us. It's not safe for the kids that are going to be showing back up to school. There should be a barrier to stop the kids from getting into school," Rucker said.
We brought these concerns to the home and dogs owners. They didn't want to be on camera, but said they're sorry and in shock about what happened. They also said the fencing they have is the only one they can afford. They also said they agree one of their dogs should be put down for the attack.
Rucker said more must be done.
"There kid's there all the time, so I don't want those dogs to be back in the picture at all. I would like the home owner to take some responsibility, as far as putting up a fence to prevent those dogs or any future dogs or animals from getting out of that yard and attacking another person," he said.
We contacted the Spokane County Regional Animal Protection Service (SCRAPS) and were told no comments could be made on an open investigation.
Source: http://www.khq.com/story/38969422/colbert-girl-recovering-after-being-attacked-by-dog