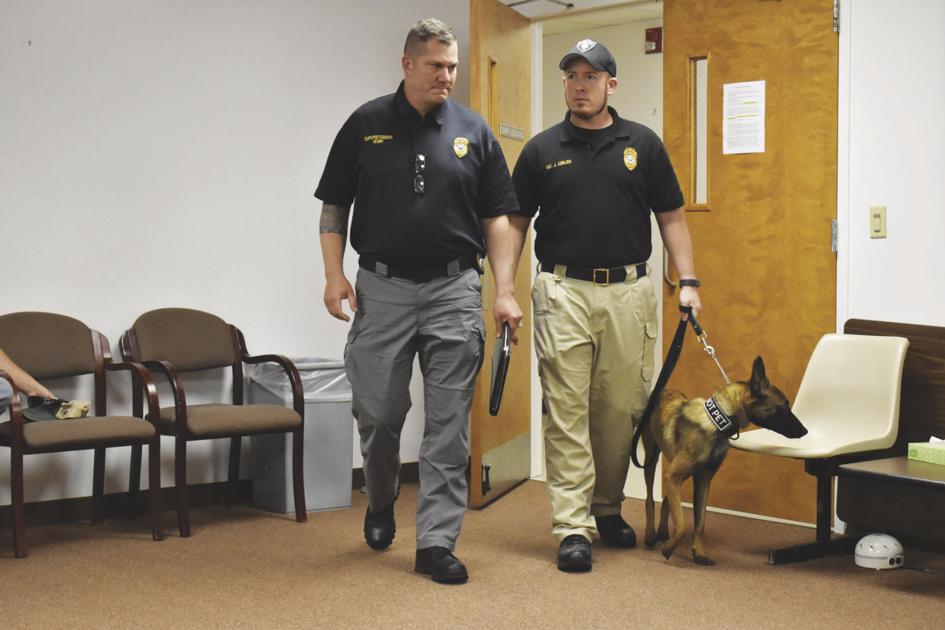 OSSIPEE — Chloe the drug-sniffing dog was cleared to get to work at the Carroll County House of Corrections following a visit with the Carroll County Commissioners, who gave the final sign-off Wednesday.
The 1 1/2-year-old Belgian Malinois, belongs to corrections Sgt. Justin Corliss, a jail employee whose dog-handling duties will be performed as an independent contractor.
In early May, Carroll County commissioners heard a proposal from Jail Superintendent Jason Henry and Corliss about having a working dog.
Corliss said he would be willing to use GI bill money to pay for the training and the dog. He said the course costs $6,500 and a trained dog is about $20,000. Chloe belongs to Corliss.
Corliss asked the county to pay for his lodging and travel, which cost less than $3,000. Corliss did 80 hours of training in San Antonio from June 18-29, at Universal K9.
The dog flew back with Corliss. As a service dog she was allowed to accompany him.
Chloe, Corliss and Henry appeared at Wednesday's Carroll County Commissioners meeting so that the commissioners could meet Chloe and sign off on the policies and procedures Corliss and Chloe will be working under.
During the meeting, Chloe sat by Corliss and didn't make a peep. Prior to coming to the commissioner's table she gave Sheriff Domenic Richardi a sniff. The Sheriff's Office also has a dog.
"She's such a great dog," said County Administrator Ken Robichaud, pointing out her calm demeanor.
To which Chairwoman Amanda Bevard (R-Wolfeboro) quipped that was because "you're not a criminal."
Corliss said Chloe is "very mellow" unless it's time to work. She will be responsible for detecting narcotics/contraband; tracking/searching for escapees/missing persons, routinely patrol facility buildings/grounds and respond to emergency situations.
"When it's time to work, you see a totally different dog; she is all excited and ready to go," said Corliss.
At home, she's good with his kids and his family's other dogs. But cats, not so much, said Corliss.
Much of Chloe's training took place six weeks before Corliss got to Texas, but Corliss and Chloe did building, area and vehicle searches together.
They bonded and did obedience training. Corliss said Universal K-9 had suggested other dogs for him but that Chloe was the best fit.
"Her detection skills were on point in comparison to the others," said Corliss adding Chloe had the "drive" he was looking for.
Henry said Belgian Malinois are highly athletic dogs.
"These dogs can chase people straight up trees," he said, noting the dog could run up the side of a 12-foot shed. "They can leap up like you won't believe."
In response to a question from Bevard, Corliss said no one is supposed to pet Chloe. He said her collar says, "Do not pet," and if anyone from the public or staff misses that, he will ask them politely to refrain.
"She is a beautiful dog," said Bevard, adding that it would be natural for people to want to pet Chloe.
Henry said the policies and procedures that he asked the commissioners to sign were just there in case he needed to hold Corliss accountable for things like neglect, something no one expects would happen.
The procedures also say Corliss will have an hour of work time per shift for training, food, water, kennel maintenance and exercise.
With the paperwork done, Chloe can now get down to work.
Henry said she has already done a sweep of the staff locker rooms outside the secure perimeter but nothing with the inmates or inside the secure area yet.
"I think it's exciting," said Bevard.
Source: https://www.conwaydailysun.com/news/local/chloe-the-drug-sniffing-dog-cleared-for-work-at-jail/article_1e9af2fe-8aa9-11e8-9f16-1f199572bbd8.html