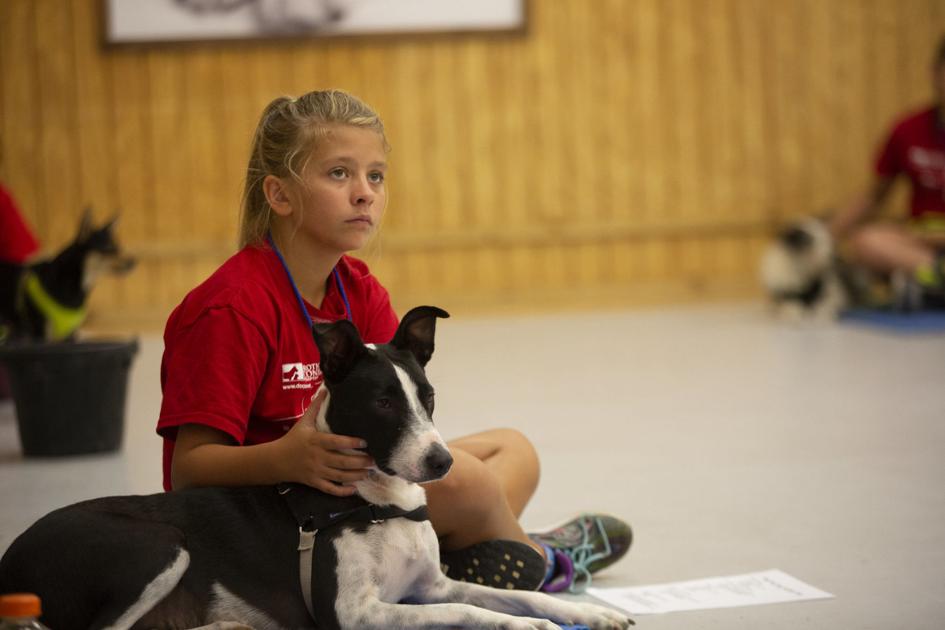 Chica, a white and liver colored Pointer and German Shorthaired mix, was more interested in a neon green tennis ball than a massage.
'ÄúShe loves fetch,'ÄĚ said 10-year-old Joza'Äôlyn Villarreal as she tossed Chica the ball. 'ÄúShe'Äôs crazy.'ÄĚ
Joza'lyn got to know Chica during one of Dorothy O'Connor Pet Adoption Center's Camp K9 events that teaches children ages 10 to 15 canine body language, basic dog training and agility, pet responsibility and grooming and pet care.
Campers pet their dogs with a purpose Tuesday as Sue Furman taught them two types of massages: effleurage and petrissage.
'ÄúWhatever you feel, the puppy feels,'ÄĚ said Furman, of the Holistic Touch Therapy School of Canine Massage and Acupressure.
Dogs tipped onto their sides and cuddled close to 13 campers who worked on red, green and blue mats to practice the relaxation techniques. Each camper was paired with a shelter dog to socialize them.
Effleurage means to skim the surface, Furman explained. 'ÄúUp, up and away'ÄĚ is when a person rubs a dog'Äôs toes, which helps blood circulation.
Petrissage means to knead, she said. 'ÄúDigital circles'ÄĚ are when a person uses three fingers to rub in a circle. Areas to focus on are in front of the ears and the cheek because those muscles are important for dogs to open their mouths.
Massages are not only soothing for the animals but are a good bonding technique, said Angelina Guad, kennel supervisor for the Dorothy O'Connor Pet Adoption Center.
The camp shines a light on animals and child safety as it teaches animal control, Guad said.
Kaedynce Schrader gave her dog, Gypsy, a black-and-white smooth collie, a hug after the session. The dog lover said her own dog, Bo Rito, is a 'Äúcuddlebug.'ÄĚ
'ÄúI love the way (dogs) look and snuggle,'ÄĚ Kaedynce, 10, said.
Kaedynce said it is important for people to treat animals right.
'ÄúI feel dogs deserve respect like humans,'ÄĚ she said. 'ÄúThey should get what they deserve.'ÄĚ
Source: https://www.victoriaadvocate.com/news/education/children-make-puppy-pals-during-summer-camp/article_9ba000ca-8552-11e8-b6b5-5b4ce9aa838f.html