Case Keenum dominates Day 2 of Broncos training camp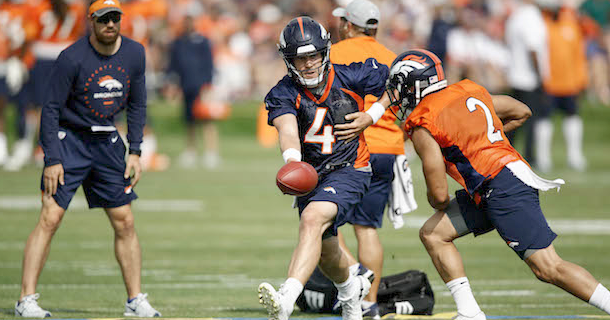 SLIDE 1 of 10
Jewell, Bell remain sidelined
Joseph termed both injuries as minor, though the team is likely to proceed with caution. Hamstrings are notorious tricky to rehab as they're easily aggravated.
SLIDE 2 of 10
Brown, signed days ago, not practicing
SLIDE 3 of 10
Brittany Bowlen in the house
Brittany Bowlen, the daughter of incumbent Broncos owner Pat Bowlen, is seen as a candidate to eventually assume control of the franchise. She's on the short list, along with her sister, Beth Bowlen.
SLIDE 4 of 10
Booker shines in pass-pro
One of the reasons Devontae Booker is likely to open the regular season as Denver's starting running back. Freeman will get his touches but Booker is the more polished of the two … for now.
SLIDE 5 of 10
Hamilton with a highlight
SLIDE 6 of 10
Offense clicking
It goes without saying, but Keenum is such a delightfully refreshing change from the doldrums of Trevor Siemian. You know the tide is turning when the offense bests the defense.
SLIDE 7 of 10
Don't sleep on Kelly
Paxton Lynch starred on Day 1 of Broncos camp, but Kelly made up some ground in the QB2 battle Sunday. The former Ole Miss stud has all the tools and is beginning to put them together. Very encouraging.
SLIDE 8 of 10
Lynch, Sutton building chemistry
Speaking of Lynch, he continues to build rapport with Sutton, who's going to be a problem for opposing defenses.
SLIDE 9 of 10
Lindsay continues to impress
Is it too soon to reserve a spot on the 53 for Lindsay? Perhaps. However, the Colorado product is dazzling coaches and fans alike with his skill set. Don't get too comfortable, De'Angelo Henderson.
SLIDE 10 of 10
(Another) Miller in the house
Peyton Manning isn't the only Broncos great to return to Dove Valley.
Source: https://247sports.com/nfl/denver-broncos/ContentGallery/Case-Keenum-dominates-Day-2-of-Denver-Broncos-training-camp-120185976/
---