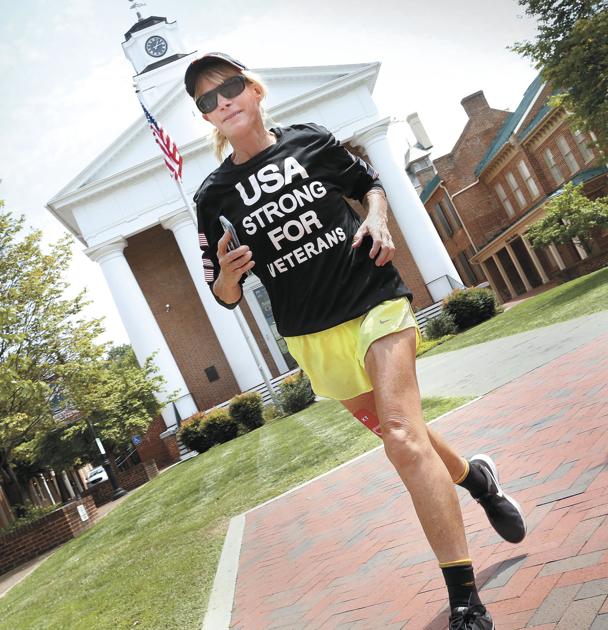 WINCHESTER — A California woman running across America to help veterans struggling with post-traumatic stress disorder (PTSD) stopped by Winchester on Friday.
Clinical psychologist Katie Strong, 59, began her journey to the U.S. Capitol on June 18 in Oregon. The Glendora, Calif., resident has been running 30 to 40 miles a day.
PTSD is a mental health condition triggered by experiencing or witnessing a traumatic event, according to the Mayo Clinic. Symptoms may include flashbacks, nightmares and severe anxiety.
The National Center for PTSD says 11 to 20 out of every 100 veterans who served in Iraq suffer from PTSD. About 12 percent of Gulf War veterans and 15 percent of Vietnam War veterans have PTSD. The U.S. Department of Veterans Affairs says people with PTSD are at a higher risk of suicide. A study from the Veterans Affairs revealed that an average of 20 veterans die by suicide each day.
Strong said her father, stepfather and father-in-law were all veterans who struggled with PTSD. In an attempt to combat the issue, she has started a GoFundMe page to raise money for military service dog equipment and training. Strong said the two most notable organizations the money will go toward are Working Dogs for Vets and Canine Intelligence Academy.
A study led by researchers at the Purdue University College of Veterinary Medicine shows that symptoms of PTSD are lower among war veterans with service dogs. These veterans had lower levels of depression, higher levels of life satisfaction, lower levels of social isolation and higher levels of companionship.
Strong's run across America is an attempt to raise awareness about her fundraiser and the suicide rate among military veterans.
"The problem that we are having is veterans who are suffering from PTSD aren't getting enough treatment," Strong said. "We've found that service dogs really circumvent the problem that they are having and really allow them to function and do well in society. And the ones that are not able to afford these service dogs are turning to drugs and suicide."
Strong expects to arrive at Arlington National Cemetery on Friday. There, she will lay flowers in honor of veterans who have taken their lives. Later that day, she will go to the Capitol, where she will meet with representatives to advocate for funding organizations and programs that train service dogs to take care of veterans.
To view Strong's GoFundMe page, visit: gofundme.com/usa-strong-for-veterans.
Source: http://www.winchesterstar.com/news/winchester/calif-woman-raises-awareness-for-ptsd/article_f3039a81-4938-5b50-934b-d1cf51184432.html