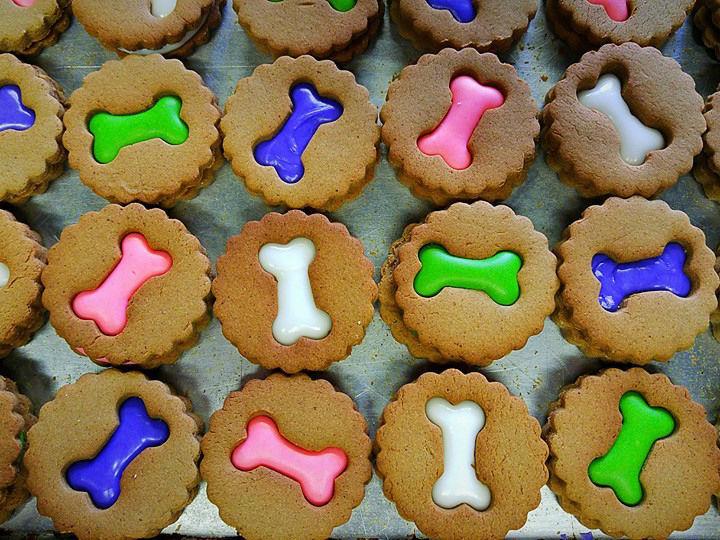 Local foods produced in small batches aren't just for humans anymore. Buddy Gourmet makes it available for man's best friend, too.
The Clinton business is named after Buddy, a senior toy poodle that was in desperate need of medical care when he was adopted by the couple behind the company.
"Nutrition played an integral role in his rehabilitation, and ultimately, his longevity," says Buddy Gourmet founder Margaret Stafford.
The little guy was in bad shape when he was surrendered to an animal control shelter in Indiana at age 14. He was then transferred to a rescue. Buddy was blind, thin, suffering from digestive problems, and had teeth so rotten that holes had formed between his oral and nasal cavities, a condition known as orinasal fistulas.
Between veterinary care — which included skin grafts, a new diet and a lot of tender loving care — Buddy thrived in his new home. He lived to be 22.
"He came with the quintessential dog name," Stafford says, noting that it is very relatable for customers, as many have a Buddy of their own.
Stafford's husband, John, is operations manager at Buddy Gourmet, which the couple opened in 2009, at 86 Main Ave., Clinton. In addition to the Staffords, the company employs five people and frequently accepts participants in vocational rehabilitation and job training programs.
The facility has always been gluten-free. Stafford's husband has celiac disease, and dogs also can have it. She says if an animal has an allergy to it, even a limited amount of contamination can cause symptoms.
A lot of care goes into ingredient selection. "All of the products we produce are made with ingredients that were meant for human consumption," Stafford says.
There is a wide variety of treats available, including "belly rubs" for dogs with upset stomachs, "breath busters" and lavender chamomile calming bones.
The store's food is called Nature's Foundation Foods. Six types are offered: All Stages, Performance and Growth, Low Glycemic, Low Oxalate, Kidney Care and Liver Care. The company also works with clients' veterinarians to formulate customized diets.
"It is very rewarding for us to see pets rebound from long-term problems that are related to nutrition, such as hair loss, ear and skin infections, and even elevated liver enzymes," Stafford says.
Bonnie Dunn, of Thompson, Ill., became a Buddy Gourmet customer when she learned it offered food for diabetic dogs.
Her Labrador retriever, Sadie, was diabetic, and Dunn had a hard time finding food for her. She also switched her other dogs to the All Stages food.
Sadie passed away this spring, 6 1/2 years after her diagnosis. Dunn says the food played a big part in keeping Sadie as healthy as possible.
"Even though she is gone, I still continue to feed Buddy Gourmet, and I wouldn't feed anything else," Dunn says. "(The dogs) don't refuse a meal for sure. I do feel they are healthier."
Dunn says her dogs haven't had issues with ear infections or yeast infections since making the diet switch, either.
Stafford has done small-animal massage since 2004, and added the modality to Buddy Gourmet's offerings when the store opened.
Massage is "just as beneficial in dogs as people," Stafford says.
Kimberly Vegter, of Clinton, has an arthritic 13-year-old German shorthaired pointer named Lizzie. She had stopped eating her dry food, so Vegter looked for a new option and found Nature's Foundation. Now, Lizzie eats All Stages food and gets massages at Buddy Gourmet.
"She just kind of had more pep in her step," Vegter says. The food has helped her teeth and weight management, too, Vegter says, adding that massage also has greatly benefited Lizzie.
Massages help reduce inflammation and pain, and increase range of motion, Vegter says. She says Lizzie is a different dog since the diet switch and massage sessions.
Lizzie also receives chiropractic care elsewhere to help with her arthritis.
While dogs are the primary focus at Buddy Gourmet, it also offers treats and food for cats, as well as grooming, massage and special-occasion treats for many species. It began offering pet grooming in 2015 with its in-store salon, Pur Chien (which means Clean Dog).
Buddy Gourmet also is environmentally minded.
"Much of our produce comes from local farms, honey from local apiaries, and we select our protein sources from farms with verified sustainability plans," Stafford says.
And Buddy Gourmet doesn't stop there.
The packaging for Nature's Foundation Food is durable and can be sanitized, allowing them to be reused many times before they are recycled. Nearly all of the company's local clients participate in the voluntary container return program.
Stafford says the company produces less than a 13-gallon bag of trash a day. It uses only repurposed or reconditioned fixtures and equipment, upcycled plastic bags, and welcomes customers to bring their own containers for loose treats.
Buddy Gourmet also offers an eco-friendly labeling alternative. Labels are available in a digital format to in-store customers. Product information can be found online, and purchase receipts provide identifying information about the food production batch numbers.
Stafford says Buddy Gourmet wants to do everything possible "to reduce our carbon paw print."
Source: https://qconline.com/radish/buddy-gourmet-clinton-company-caters-to-dogs-and-the-environment/article_5304a6ea-7404-5201-a47f-48732cf2fd0a.html