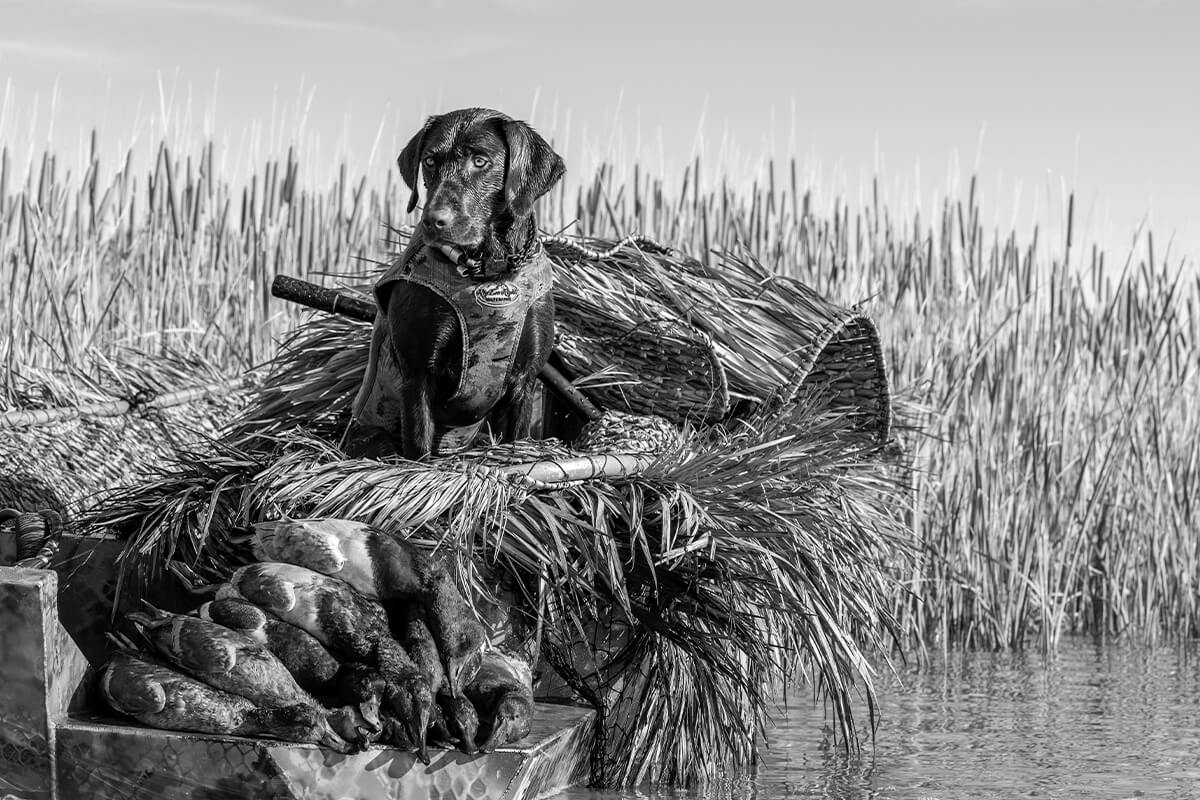 October 28, 2022 By Jace Bauserman
DON'T MISS Episode 40 – 2022 Giant Gear Issue Series – Retriever Gear with Garmin
Waterfowl hunting is fun. Waterfowl hunting with a dog is fantastic. Having man's best friend by your side when whistling wings can be heard overhead adds another element to the hunt that can't be captured with words. Of course, taking a dog afield means more gear and more things to consider. Not only is the dog your responsibility, which means months and months of training, but you'll also need a litany of gear. We have you covered, from training dummies to launchers to e-callers to food and supplements. Give the following a read and find some products your pooch will appreciate.
Garmin – Alpha 200i
If it wears the Garmin name, you know it's going to be a top-tier device loaded with purposeful technology designed to make your training sessions and in-the-field pursuits the very best they can be. Dubbed the Alpha 200i, this multi-dog tracker and trainer feature inReach technology, and the sizeable touchscreen is easy to operate via the six-button design. Inactive dogs can be kept in the system for more straightforward setup and management, and the user-replaceable battery lasts up to 20 hours without inReach enabled.
$750 | garmin.com
Lucky Duck – Lucky Kennel—Large
The perfect home away from home for your favorite field companion, Lucky Duck's Lucky Kennel–Large, sports an injection-molded door with a quick flip design that allows it to be reversed in seconds. The locking panel latch is ultra-secure and promises to stay shut, keeping your dog safe until you're ready to open it. The ventilation design is genius, and the pitched floor build directs water away from your dog and into the drain channels that run along each side of the kennel. Other notable features of this 5-Star Crash Test Rated kennel include powder-coated tie-downs, non-slip rubber feet, and heavy-duty lift handles. Lucky Duck slapped this lightweight, durable kennel with a lifetime warranty to sweeten the pot.
$700 | luckyduck.com
Rig 'Em Right – Bloodline Elite Dog Vest
Protecting your favorite in-the-field companion, while keeping them warm, comfortable, and preventing injury is at the top of your list. For this reason, snag Rig' Em Right's Bloodline Elite Dog Vest. Three-way construction of the upper material provides next-to-skin warmth and comfort, and the thin layer of added foam helps with flotation. The vest's outer layer is made from a heavy-duty canvas, which provides bulletproof protection from brush and briars. A braided handle helps you get your buddy back in the blind or give them aid if they ever get in a bad way in the field. Vest sizes vary, and both Solid White and Mossy Oak Habitat colors are available.
$80 | rigemright.com
Dokken's – DeadFowl Trainer Mallard
I have two Labs, and I've trained both using Dokken's DeadFowl Trainers. My go-to, especially as dogs mature, is the DeadFowl Mallard. Tom Dokken developed this device to teach dogs how to hold and carry game birds properly, and the hard head and bottom, married with a soft, durable body, educate them quickly. When a youngster starts shaking the dummy, the head gives him a whap on the noggin', and the grab and shake problem is remedied soon. The soft body can also be injected with scent to boost realism.
$30 | dokkens.com
Gunner Kennels – Performance Pad
Your pooch works hard, and when the job is done they deserve a comfortable ride home. The brand that changed the game is at it again! Gunner Kennels' Performance Pad is a tough-skin insert that provides ¾-inch padding for the crate and waterproof comfort. This Made in America pad is odor resistant, shock absorbent, and is offered in sizes of Intermediate, Medium, and Large to fit Gunner's kennel options.
$90 | gunner.com
Dive Bomb Industries – Dog Vest
Finally, a way to get your best hunting buddy decked out in Dive Bomb gear! The Dive Bomb Dog Vest is the perfect piece of equipment to make sure the two of you can be working together at peak efficiency! With its multi-point adjustable design and high-strength velcro, this vest is designed to fit both small and large dogs. The weight range for optimal fit and performance is 50 lbs. to 90 lbs.
$75 | divebombindustries.com
Eukanuba – Premium Performance 30/20 Dog Food
healthy — giving them exactly what they need to be at their very best. Enter Eukanuba's Premium Performance 30/20. Not only does this 30 percent protein and 20 percent fat blend provide on-the-hunt fuel, but the blend helps with post-hunt recovery, meaning man's best friend will be ready for the next hunt. Premium Performance 30/20 is also loaded with glucosamine, chondroitin sulfate, and EPA to boost joint health and an enhanced combination of fibers and prebiotics help with digestion. Pair Premium 30/20 with ActivTrainers Salmon 1st Ingredient Treats, and you have a winning combo.
$54/28-pound bag | eukanuba.com
D.T. Systems – RDL 1209 Remote Dummy Launcher
Few things boost training and get dogs ready to hunt like a launcher system, and D.T.'s RDL 1209 will serve you and your pup well. Easy to setup and use, the 1209 can be taken anywhere, and the system is made up of a portable launching device that is remotely controlled and uses .22 blank cartridges. The launcher will send a dummy or bumper up to 100 yards, allowing you to customize each training session.
$420 | dtsystems.com
GunDog Outdoors – Field Trauma Aid Kit
I've had to administer dog first-aid several times during my waterfowl tenure, and the process is easier when you're toting a kit specifically designed for K-9s. Designed by hardcore waterfowler and firefighter/EMT Alex Langbell, the GDO Field Trauma Kit was designed to mend your favorite waterfowling companion when something goes awry. The pack's contents are many, and an Emergency Field Trauma Guide is included with the kit. All equipment is U.S. medical grade—the same equipment used by first responders around the country.
$54 | gundogoutdoors.com
Dogtra – 1900S Training & Beeper E-Collar
An e-collar that promises great range, simplicity, and function is Dogtra's 1900S Training & Beeper E-Collar. High output stimulation levels are available from 0 to 127 — perfect for training and field use — and the unit has a range of .75 miles. The collar is coated in a blending-with-the-terrain camo, and the receiver is IPX9K waterproof certified to withstand high heat and extreme water pressure better. After all, durability and dependability are staples in the waterfowl woods. This is a single-dog-only system.
$250 | dogtra.com
Purina – Pro Plan Adult 7+ Sport Performance 30/17 Chicken & Rice Senior Dog Food
They've been by your side for years, and you want them around for many more. A blend that fuels the active lifestyle of senior dogs with fine-tuned nutrition to help them stay at their peak for as long as possible, this top-end blend features concentrated ingredients that support oxygen metabolism (VO2 Max), which helps boost endurance and allows them to go all-out for a more extended period of time. Glucosamine and EPA support joint health and mobility. The 30 percent protein and 17 percent fat ratio helps fuel metabolic needs and maintain lean muscle, while brain-supporting nutrients like DHA, EPA, antioxidants, B vitamins, and arginine help promote cognitive health.
$60 | purina.com
Primos – KennelUp Dog Kennel
Explicitly built to keep your dog safe and comfortable, Primos' KennelUp is a solid crate for your dog. The roto-molded kennel features one-piece construction and a single-wall design that reduces weight while adding rigidity. Other notable features include a locking door and built-in drains.
$500 | primos.com
---
Victor Super Premium Pet Food – High Energy Formula
A dog food formulated for all breeds of dogs at all stages of life, Premium High Energy is a dry kibble formula ideal for highly active sporting dogs. This high percent protein from meat blend provides sustained energy to promote better stamina and endurance, and its superior digestibility means less food intake for a better pound-for-pound value. Made from gluten-free grains and fortified with vitamins, minerals, essential fatty acids, protein, and amino acids, the mixture promotes healthy immune and digestive systems.
$40 | victorpetfood.com
Lucky Duck – Kennel Cot
The Lucky Kennel Cot is a versatile product for use in kennels, as a place stand, or a training tool. The elevated cot maximizes air flow to keep your dog cool and dry. Made of a durable Teslin material that helps drain water off your dog. The Lucky Kennel Cot features powder coated steel frame and rubber feet to reduce slippage while protecting flooring. Custom sized to fit Lucky Duck Kennels as well as other brands.
Intermediate $129.99, Large $149.99 | luckyduck.com
SportDOG Brand – Contain+Train System
A system that will work as well in the field as it does in the backyard, SportDOG's Contain+Train System is engineered to provide all of the current containment capabilities of the manufacturer's In-Ground Fence combined with the remote training abilities of the FieldTrainer 425. A wire-break transmitter triggers an alert-you-now alarm, and the Anti-Linger Feature prevents dogs from running down the Collar Receiver battery in the containment warning zone. The unit features seven levels of static stimulation and a vibration/tone option. With this innovative system, you can train your dogs efficiently in any environment without worrying about them getting out.
$470 | sportdog.com
Tanglefree – Flight Series Dog Vest
When Mother Nature gets angry, as she tends to do during waterfowl season, you need a vest to keep your dog afloat longer and more comfortable on those long, icy retrieves. Tanglefree's Flight Series is a solid buy, and comes with a built-in centered grab handle that gives you added control of your dog. The vest is offered in GORE OPTIFADE Concealment Waterfowl Marsh and Timber Patterns.
$60 | tanglefree.com
Zoom Dog – Thirsty Dog Hydration Tabs
Help your dog stay hydrated, hunt hard and long with Zoom Dog's Thirsty Dog Hydration Tabs. Odorless, these dissolve-in-water tablets are a natural electrolyte supplement filled with B vitamins and amino acids designed to support balanced energy production and promote a healthy metabolism.
$11 | zoomdogsupplements.com
Native – Level 4 Dog Food
From Kent Feeds comes Native Level 4 dry dog food with NutriVantage Nutrition Optimizer. This blend of macromolecules, trace minerals, antioxidants, and chelating agents will maximize your dog's performance and treat their gut like a king. Native 4 is recommended for performance canines that experience days of intense activity. Meat protein and fat deliver a slug of dog-needed goodness that ups performance while helping them maintain weight and stamina.
$48/40-pound bag | kentfeeds.com
K9 Athlete – Hydrate & Recover
Hydrate & Recover is one of my backcountry go-to's, and I was thrilled to see this nutrition expert offer it in K-9 formula. Designed to maximize hydration and replenish vital electrolytes, K9 Hydrate & Recover will keep your dog going strong. Mix it with their water before a hunt to help them fight fatigue and stay hydrated. Plus, it is formulated to encourage more fluid intake, boost hydration, and allow dogs to recover faster.
$35 | wildernessathlete.com
Collar Clinic
Collar Clinic is my one-stop e-caller site. Of course, you can punch in numbers from your plastic and purchase the latest and most excellent collars, but you can also order replacement parts and get advice from knowledgeable staff. There are also those times when your e-collar needs work, and you don't feel like you have the chops to do it. No problem, Collar Clinic will fix it for you.
Nutramax Laboratories
A pet supplement super site, Nutramax has everything your pet needs from joint health supplements to liver health chewables to multi-strain probiotics. The process is easy, click on the product you're looking for and read the information, including helpful dosage and administration intel.
Ruff Land Kennels
What do you do when your tried-and-true kennels start to show wear? In the case of Ruff Land, you take the opportunity to make an already remarkable kennel design even better. For 2022, Ruff Land kennels now include handles that are recessed for stacking and accessorizing, and the fit and finish are more uniform than ever. Plus, the new Millstone color is flat cool.
$190-$420 | rufflandkennels.com
Kinetic Performance Dog Food – Puppy 28K Formula
A great food option for large to medium-breed puppies and pregnant or lactating females, Kinetic's Puppy 28K Formula is what the Dog Food Doctor ordered. Engineered to support healthy and controlled growth and provide elevated levels of DHA to ensure a healthy heart and savvy brain, it's hard to go wrong with this blend.
$58 | kineticdogfood.com
Happy Jack – Flexenhance Plus +
As a distance runner, I take lots of supplements, and each one of those supplements has a purpose. My retrievers are athletes, and I want to give them the best. Happy Jack has no shortage of great products, but my go-to is its Flexhance Plus +. Filled with glucosamine and creatine, this supplement helps reverse damage to joints, bones, and cartilage while boosting muscle fibers. When muscle fibers are boosted, joints, bones, and cartilage become better protected, meaning your dog's hunting career can be lengthened and quality of life improved.
$33 | happyjackinc.com
Embark – Breed + Health Kit
A simple cheek swab is all it takes to learn about your pup's breed, ancestry, health, relatives, and the like. Slugged as the most accurate dog DNA kit available, the Breed + Health Kit will not only provide lots of valuable information about your dog, but you can discover and connect with dogs that share the same DNA. Impressive.
$199 | embarkvet.com
The Scoop – 90-Day Transformation Program: Wholesome Farm Chicken
You know that feeling you get when you clean up your diet, and your body seems to be firing on all cylinders? It's incredible. The good news is you can give your dog the same feeling in just 90 days. The Scoop's 90-Day Transformation Program guarantees you'll see a boost in your dog's level of health and well-being. Sign up for the auto-program — my dog likes the Wholesome Farm Chicken blend — and have food shipped to your door for three months.
$20 per month | safedogfood.com
Source: https://news.google.com/__i/rss/rd/articles/CBMiRWh0dHBzOi8vd3d3LndpbGRmb3dsbWFnLmNvbS9lZGl0b3JpYWwvYmVzdC1yZXRyaWV2ZXItZ2Vhci0yMDIyLzQ2NTM4MtIBAA?oc=5