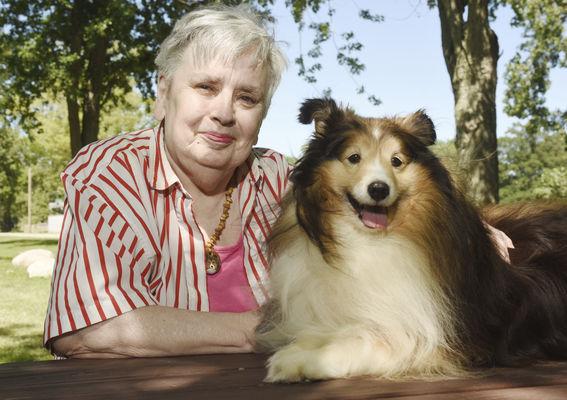 BENTON TOWNSHIP — Milly Keith loves dogs.
At one time, the Benton Township resident had about two dozen canines living on her property.
But that comes as no surprise to the people who know her as the longest-tenured member of the Berrien Kennel Club. Having joined the club in February 1973, Keith has accumulated years of experience with dogs of several breeds.
Now the 74-year-old focuses on Shelties, including one dog who goes by the name Mac.
Keith, accompanied by Mac, sat down with Herald-Palladium Staff Writer Tony Wittkowski to chat about her years with the club and what connection she shares with dogs.
How many dogs do you have now?
What's the most you've ever had at one point?
About 24. They were mostly adults. Accumulated through the years. I don't really breed. I got into being a 4-H leader back in 1980. The Berrien Kennel Club is very involved in 4-H.
How did you get introduced to this kennel club?
I found an ad in your paper for meetings and for dog training. I went to the meeting and they had a veterinarian there talking. He was talking about heartworm. After that, I took my dog in and he had heartworm. So, I decided to join up with this club because of how informative it was. They wanted to help people and I wanted to be a part of that. I've been there ever since.
Wow. How many years have you been a member?
Forty-five years as of this year. I like being with people that have dogs. If I'm gonna have a hobby, I want it to be something I'm comfortable with.
When did you get your first dog?
I think I've had a dog since I was a little kid. I don't remember being without one. Now I go for Shetland Sheepdogs like Mac here (motions to her dog). They're known as Shelties.
Where does his name come from? Is it short for something?
Mac is short for MacDreamy. His breeder named him McDreamy. But we had to change the spelling a little bit because the AKC (American Kennel Club) wouldn't let us infringe on the name "Dr. McDreamy." So, we spell his name as Mac.
When it comes to naming the dogs for shows do you ever get creative like horse breeders do?
There's one named Yabadabado. Now the dog looks like she's going to be a champion show dog.
What's your favorite part of being a kennel club member?
The camaraderie with the other people who have show dogs. You meet a lot of interesting people. Some want to champion certain breeds, others want to help the public when it comes to training. If you don't have a well-trained dog, what's the point?
What are some of the dog breeds that are hard to train?
There are some stubborn ones. Sled dogs can be stubborn. Huskies are very popular because of their blue eyes, but they're very stubborn. They want to go their own way. They're runners.
Was there anything about showing that surprised you?
The amount of it that was being done. I did not know there were so many dog shows going on. I was familiar with horse showing and horse racing. 
I know it's probably a nightmare for the owner, but I like those videos where the dog that's being shown doesn't go through the course correctly and does their own thing.
When you think about agility, where they go through the course and the dog blows it, you take it as a practice run. You cannot get mad about it because you cannot get mad at your dog.
Have any of your dogs goofed like that?
Oh yeah. I'll never forget this dog I had named Soup. On the last leg of the trials – everything was going great – I looked at him and thought everything is all set. If he gets this, we'll be all done. I called him and he sat there and looked at me. He knew to come. He came halfway across the ring, looked at me, and headed out of the rink. I was so embarrassed and everyone started to laugh.
What's your greatest memory with this kennel club?
There have been a lot of different moments. My greatest memory would be when I was made Outstanding Member of the Year. It was back aways. It was either in the '70s or '80s. You don't remember them after awhile.
How many dogs over the years have you owned?
Fifty at least, but probably closer to 75. It's not like they were all at one time.
If you were to pitch the kennel club to someone who is getting their first dog, what would you say?
It's a great way to get involved with people who train dogs. They could learn a lot. It always helps to train your dog.
Source: https://www.heraldpalladium.com/news/local/berrien-kennel-club-member-enjoys-the-camaraderie/article_327c85c4-332f-5674-8cf0-aacdf8adb20a.html