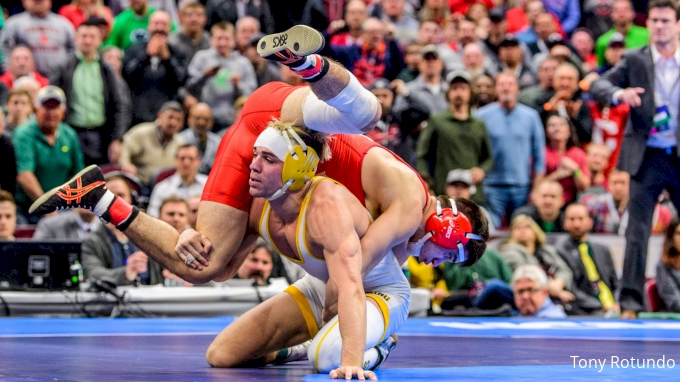 Twitter comedian and former wrestler takes to answering some of wrestlings most debatable subjects.
For future "Ask An Expert' columns, direct your questions to @kbnoswag on twitter.
Q: My 6-year-old son had lots of success this past season (122–15, 63 pins, 28 tech falls), but I noticed he had trouble against the bigger and more muscular 50 pounders in his weight class. What can he do to bridge the gap and avoid those issues next season?
— Dave G.
A: If he's passionate about his wrestling career and serious about reaching your goals for him, then I'd sit him down and give him a choice between three options: 1). Make the cut to 45 next season; 2). Dedicate the entire offseason to bulking up and hitting the weight room, so he's one of the biggest and strongest 50 pounders in the country; or 3). Quit the sport and let his father down. He's been alive for almost a decade, so he needs to start showing some maturity and discipline. 
Q: What are your thoughts on wrestlers excessively celebrating after big wins?
–Bill W.
A: Wrestling is a sport that is rooted in humility and class. Therefore, nothing is more pathetic than a wrestler getting a major victory and then making a fool out of himself by showing positive emotions and being excited about something he accomplished. If I was a coach, I would spend 15-20 minutes at the end of each practice going over the proper technique of how to win like a respectful gentleman. Â After getting their hand raised, my wrestlers would be required to walk directly off the mat in a calm and collected manner (no running or jumping), give me a firm handshake (no hugs or high fives) and then proceed to his post-match interview where he must, 1.) Dedicate his win to God, and 2.) Thank his coaches, teammates, and family for all their support. Nothing more, nothing less.
Q: I consider myself one of the best high school wrestlers in the state, but my coach has it out for me and I'm worried he's going to unfairly keep me out of the varsity lineup next season by making me wrestle off other guys in my weight class to earn the starting spot. How should I go about dealing with this?
–Patrick M.
A: I'm all too familiar with this unfortunate predicament —  a narcissistic coach abusing his power and determining the varsity lineup, based on arbitrary factors like wrestle-offs and tournament results. This sounds like a dilemma that's completely out of your control; do you have any family members with a legal background? 
Q: Any tips for peaking at the right time in college?
–Robert F.
Everyone wants to peak in March, but not everyone wants to put in the extra work at the beginning of the season. If you want to have the proper endurance and stamina to bring your A-game at the major post-season events in March, like St. Patrick's Day and Spring Break, then you really have to grind and test your body's limits at the earlier events, like Halloween and New Year's Eve.
Q: That question was actually in regard to college wrestling. Sorry for the misunderstanding.
–Robert F.
A: In that case, just replace "St. Patrick's Day" and "Spring Break" with "Conference Championships" and "NCAAs"; and replace "Halloween" and "New Year's Eve" with "Southern Scuffle" and "Midlands". The similarities between wrestling at an elite level and partying at an elite level are actually strikingly similar. In fact, throughout my college career I occasionally had trouble distinguishing the differences between the two, which led to me accidentally doing the wrong one on some weekends. 
Q: I live in Alaska and I don't have much access to elite wrestling clubs or training partners. I'm only a freshman in high school but I'm worried this is going to make it hard for me to get recruited by colleges in the future. Any advice? Thanks!
–Noah D.
A: Saying you live in Alaska and don't have much access to elite wrestling clubs or training partners, is like saying you're in prison and don't have much access to vacation resorts or supermodels —  of course you don't. What you do have access to though is frozen tundra, glaciers, Grizzly bears, wild moose, frostbite, and sled dogs. You're going to have to figure out how to use those things to your advantage because I'm not entirely sure, but if you want a college scholarship bad enough, I'm sure you'll find a way. 
Q: What do you think needs to be done in the U.S. to grow the sport of wrestling and increase participation numbers?
–Mike C.
A: The first thing I would do, at the youth level, is increase the number of age divisions and weight classes, to make the sport safer and less intimidating for kids. 9 year olds are being forced to compete against 10-and-a-half year olds at many tournaments and it's extremely unfair and dangerous. The age groups should go by 6-month increments (8 and Under, 8 1/2 and Under, 9 and Under, 9 1/2 and Under, etc.) and the weight classes should go by 2-pound increments (50, 52, 54, 56, 58, etc.) at minimum. This would decrease the risk of physical and emotional injuries, which are causing many young wrestlers to quit the sport. 
At the high school level, there's currently an extreme shortage of State Champions and it's a devastating epidemic that's destroying the sport's participation numbers. Several states, like California, New Jersey, New York, and Pennsylvania only have 1-2 classes, making it way too difficult to win a state title and thus, discouraging many athletes from even joining the wrestling team in the first place. Teens today are motivated by social status and popularity; they want to be able to put "State Champ" in their social media bios and post weekly pictures of themselves on the top of the podium. The participation numbers in high school wrestling would skyrocket if it was significantly easier to win a state championship.  Virginia is on the right track with 6 classes, but I think doubling that and dividing every state tournament into 12 classifications (A, AA, AAA, AAAA, AAAAA, AAAAAA, AAAAAAA, AAAAAAAA, etc.) would make wrestling much more appealing to young men seeking the glory that comes with winning that elusive and coveted state title. 
Source: https://www.flowrestling.org/articles/6234334-ask-an-expert-with-kbnoswag