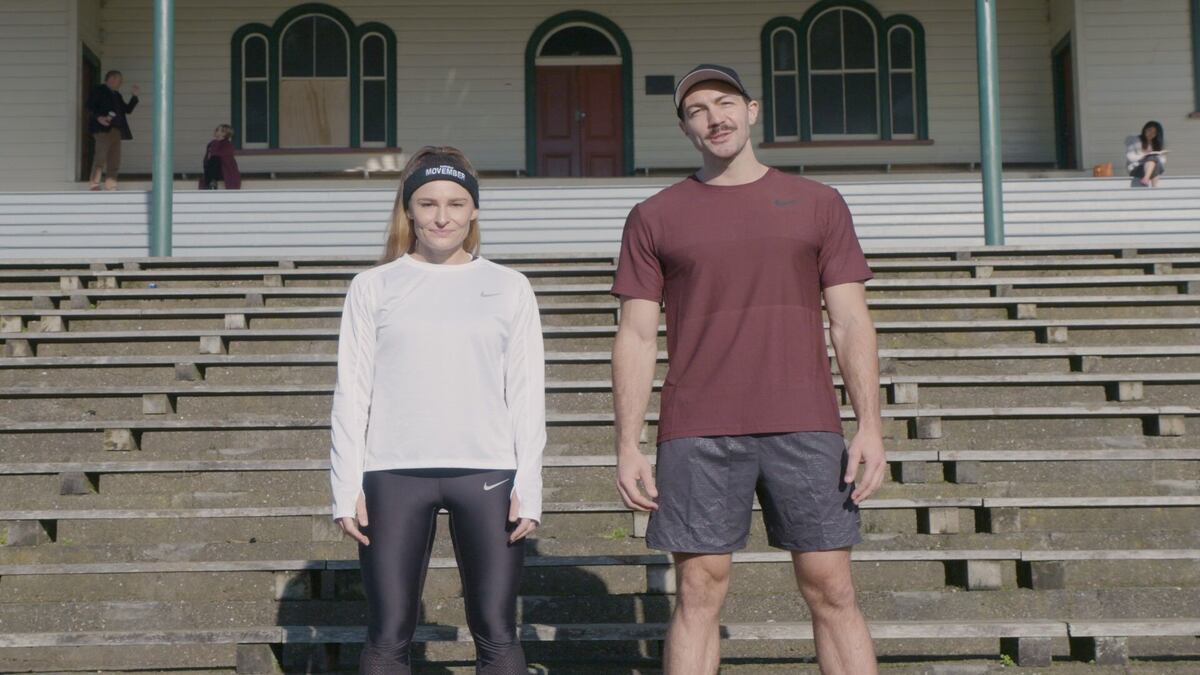 With winter coming to a close, you might be desperately looking for a little fitness inspiration in your life to get you off the couch and into your running shoes.
And who better to help kick-start your fitness programme, than two of the country's biggest fitness stars, right?
Kiwi marathon athlete Lydia O'Donnell and reality TV star Art Green have joined forces to host the Movember Run Club, raising funds and awareness for men's health including prostate cancer research by completing their biggest fitness challenge yet, the New York Marathon.
The Herculean 42.2km run is certainly no easy feat, and both O'Donnell and Green are currently in the midst of rigorous training programmes as they prepare for the November 5 race.
But before they jet off to the bright lights of New York City, the #fitspo pair spoke to the Herald about what they're doing to get marathon ready and how you can get in your best shape too.
Lydia O'Donnell
1. Mentally prepare
Before hitting go on the track, work through what it's going to take to get across the finish line. If you set your intention and dedicate yourself to the goal at the start of the training plan, you will find making sacrifices throughout the journey much easier.
The physical effort of running the many miles in training is only half the task, the mental challenge of pushing through each day of training is just as important. Make sure your mind is in the right place before even taking the first step in training.
2. Have a plan
Experience and knowledge are required if you want to get to the start line of your marathon as the best athlete you can possibly be.
Following a personalised training plan that provides you guidance on how best to train for the 42.2km is essential to stay uninjured and to condition your body for the distance, so
find a running coach that can provide you with this support.
A marathon programme should be based on strength and endurance, increasing mileage throughout a 12-16 week plan to adapt the body to pounding the pavement for hours on end.
3. Fuel yourself correctly
It is so important to understand that throughout your marathon journey, fuel is one of the most important aspects to accomplishing your goal.
A key source of energy for marathon runners should be carbohydrates, such as brown rice, kumara and wholegrain bread.
When consumed, carbohydrates get broken down and stored in our muscles, and will be the key source of energy when running distance.
4. Easy does it
To be able to get through an entire marathon training it is important to understand how rest and recovery can make you a better athlete. Rest days are for rest.
Make sure that you have a scheduled rest day in your programme and use it to allow the body to recover and the mind to take a break.
Easy running days are also essential throughout the week.
5. Trust the process
Once you get to the end of your training journey and have arrived at your big day, all it comes down to is confidence. Believe in yourself, believe in your training and trust that all the effort you have put into getting to the start will get you across the finish line.
Self-confidence is essential in running marathons, if you start to doubt yourself it is all downhill. So be positive and trust that you will reach your goal, and just enjoy the race.
Art Green
1. Invest in quality shoes
Whatever you do, just find some good quality shoes that your feet feel really comfortable in, because they're going to spend a lot of hours in them.
2. Roll it out
Get a foam roller or similar piece of equipment that you can roll your legs out on as they get tight from training. This will help you to recover faster and minimise your overuse injury risk.
3. Plan ahead
Lydia has written me up a plan and I find it super useful having some direction and variation in my training.
4. Listen to your body
Know that rest is just as important as running, and so make sure that rest and recovery is a big part of your training. Schedule in rest days and listen to your body.
5. Download audio books and podcasts to listen to while training
Some that I've loved listening to while running include Born to Run by Christopher McDougall and Shoe Dog by Phil Knight.
When it comes to podcasts you can't go past the likes of Serial or Black Hands for a murder mystery or investigative journalism type of listen.
Or The Joe Rogan Experience for some really interesting, insightful and funny conversations with some experts in their fields.
How you can get involved
Starting from August 1, Art and Lydia will be hosting the "Movember Run Club" (MRC) every Wednesday at 6pm as they train for the New York Marathon.
They are inviting all New Zealanders to head along to Auckland Domain to join them in the fight by getting active and going the distance to support men's health.
Source: https://www.nzherald.co.nz/lifestyle/news/article.cfm?c_id=6&objectid=12098952