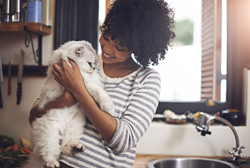 According to the 2017-2018 APPA National Pet Owners Survey, there are more cat owners and cats owned than ever before. Over 47 million U.S. households own a cat equating to 38 percent of U.S. households.
STAMFORD, Conn. (PRWEB) August 03, 2018
According to the 2017-2018 APPA National Pet Owners Survey, there are more cat owners and cats owned than ever before. Over 47 million U.S. households own a cat equating to 38 percent of U.S. households. With 94.2 million cats owned in the U.S., the Survey also reveals that's more than dogs by almost 5 million. To celebrate the joys and benefits of all cats, here are some fun products manufactured by APPA members to celebrate this International Cat Day.
Playing Around
Every cat loves a game of peek-a-boo, and with the PetSafe® Cheese Cat Toy, they can play all day long. This interactive toy has two mice that pop out of each side of a block of Swiss cheese. The Play While You Are Away mode keeps kitties engaged throughout the day by turning itself on and off, for a total play time of 45 minutes over the course of six hours.
Price: $28.99
http://www.petsafe.net
While cat scratching is a healthy behavior, ruining the new couch is not. Luckily, the SmartyKat® Claw Tower™ encourages scratching away from the furniture with the new super-sized 2-in-1 sisal and carpet scratch post. Cats can stretch, scratch and play with the three attachable bonus catnip toys for extra fun.
Price: $27.99
http://www.smartykat.com
It's important to engage cat's natural instincts for overall health and energy levels. The Feather-Go-Round™ by The Pet Zone® electronic action toy whirls around with bouncing feathers to draw cats in and keep them fascinated. The wobble base encourages healthy, interactive play and fulfills cats' natural instinct to hunt.
Price: $14.99
http://www.petzonebrand.com
For something out of this world, the Constellation Convertible Scratcher by Jackson Galaxy is a fun option. Made from dense corrugate to keep cats happy and scratching longer, the two separate pieces allow pet owners to make new configurations to keep cats engaged. It also comes with organic grown USA catnip.
Price: $44.95
http://www.jacksongalaxy.com
Cozy Cribs
Cats can perch and play on the Kitty Klimber by New Age Pet. Made with durable, odor and moisture-resistant ECOFLEX, this piece of furniture has multiple shelves and enclosed spaces for playtime and napping that multiple cats can enjoy. It also features a replaceable scratching surface for an afternoon scratch session. Available in espresso, antique white and Nantucket gray, so pet owners can match it with their other furniture.
Price: $156.99
http://www.newagepet.com
Introduce a safe space for cats, while adding a beautiful motif with P.L.A.Y.'s Horizon Pet Teepees. When cats need alone time, they can feel comfortable and stylish during an afternoon nap in their own teepee. Designed for easy set-up, these Pet Teepees feature a durable and washable cover, pine wood poles and removable interior cushion.
Price: $69.00 – $79.00
http://www.petplay.com
Let every cat's personality shine with Felt Cubbies by FurHaven.
These compressed felt beds are mold-formed by hand to create fun, engaging shapes for cats to enjoy. Made with resilient soft synthetic non-shedding wool fabric, cleaning them is a snap. Combined with an easy zip together design, cats have never "felt" this good before.
Price: $58.99
http://www.furhaven.com
Treats & Food
Cat owners don't have to feel guilty about rewarding their cat with Wild Tuna and Wild Minnow Treats by PureBites®. Treats are made using a delicate process to ensure only pure whole ingredients are included. They are the ideal treat for cats with health issues or pets that are overweight, diabetic, have allergies, gastrointestinal disorders, or are on a restricted diet.
Price: $3.99
http://www.purebites.com
Cat owners looking for a healthy food option can turn to Purely Feline® Holistic Recipes by GlobalOne. Made with careful consideration of quality ingredients, recipes are highly digestible and expertly blended to provide the proper balance of meat-first proteins, fatty acids, high-quality fibers, natural antioxidants, vitamins and minerals.
Price: Starting at $10.99
http://www.purelyfeline.com
Protein Puffs by Redbarn Pet Products are a natural, clean label treat for cats, packed with 75% protein at less than one calorie per treat. Light and crispy, the protein comes from human-grade caseinate, a milk-based protein. Made in the USA, Protein Puffs can also be used as a training aid or a food topper without worrying about your cat's weight.
Price: $3.99
http://www.redbarninc.com
Healthy Habits
For cat parents concerned with their cat's health issues, there is a solution and it's the Affordable Pet Test. Using a hair analysis test, the test can determine key sensitivities to food and environmental items. This test helps pet owners understand their pet's health issues ranging from scratching, diarrhea, bleeding paws, heat rashes, hair loss, joint pain and inflammation.
Price: $144.00
http://www.affordablepettest.com
Hairballs? Yuck! Cat Hairballs Plus by CocoTherapy is made with only one ingredient, high-fiber organic coconut. It contains no artificial ingredients, preservatives, and fillers, so pet owners can feel good giving it to kittens and cats. Coconut fiber passes through the intestines and has a much greater impact on intestinal transit time. It increases stool bulk to help waste pass through more efficiently.
Price: $11.95
http://www.cocotherapy.com
Bathing cats isn't always easy but QuickBath™ Cat Wipes from International Veterinary Sciences give cat owners an easy way to clean cats. These wipes offer a convenient "quick bath" for travel, on the go or daily use at home to keep cats clean. Made with natural Aloe and Vitamin E to be soothing and safe for cats as well.
Price: $8.99
http://www.ivspet.com
For all health ailments, HomeoPet has remedies that will help issues with digestion, fur balls, skin, itching, tapeworm, roundworm, anxiety and urinary tract. All products in this group are formulated to aid recovery in the body and promote healing. They are multifunctional products in liquid form and can be used for many different conditions and combined with many other HomeoPet products.
Price: $19.99
http://www.homeopet.com
For more information, product samples, images or interview opportunities, please contact Liz Thomas at 775-322-4022 or liz@theimpetusagency.com.
-###-
The American Pet Products Association (APPA) is the leading trade association serving the interests of the pet products industry since 1958. APPA membership includes more than 1,200 pet product manufacturers, their representatives, importers and livestock suppliers representing both large corporations and growing business enterprises. APPA's mission is to promote, develop and advance pet ownership and the pet product industry and to provide the services necessary to help its members prosper. APPA is also proud to grow and support the industry through the following initiatives: Pets Add Life (PAL), the Human Animal Bond Research Institute (HABRI), The Pet Leadership Council (PLC), the Pet Industry Joint Advisory Council (PIJAC), Bird Enjoyment and Advantage Koalition (BEAK), and the Pet Care Trust. Visit http://www.americanpetproducts.org for more information.
Source: https://www.prweb.com/releases/appa_celebrates_international_cat_day/prweb15670516.htm