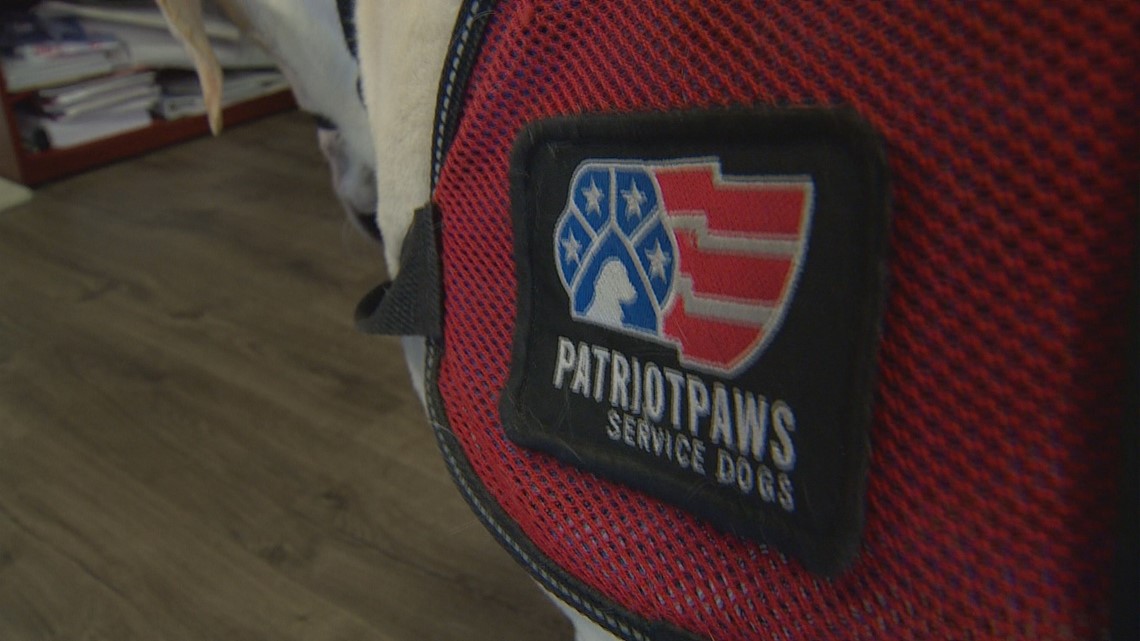 In a move supported by certified dog trainers throughout the country, American Airlines, in a letter to the U.S. Department of Transportation, recommends that the problematic trend of "emotional support animals" on flights be restricted by allowing approved service animals only.
In a 22-page letter to the U.S DOT dated July 5, American Airlines stated "American's primary comment is to request that the Department align the definition of service animal found in the Americans with Disabilities Act (ADA) – dogs that are 'individually trained to do work or perform tasks for the benefit of an individual with a disability.'" That definition includes animals that are considered psychiatric support animals – animals specifically trained to help individuals with emotional or psychiatric disabilities including post-traumatic stress.
But in reference to emotional support animals, untrained companions that passengers bring on flights for their own well-being, American wrote "if DOT were to make this change, it would eliminate from protection the category of emotional support animal and thus eliminate the need to work through many of the safety and hygiene issues….and "serve the clear priority of airline crews – to ensure the cabin is safe for all passengers while still protecting the rights of individuals with legitimate service animals."
In its letter to the DOT, American Airlines detailed a steady decrease in the number of passengers flying with pets while experiencing a steady increase in the number of people flying with emotional support animals they are currently allowed to bring on board for free. AA says those animals on their flights have included emotional support birds, a sloth, kangaroos, rabbits, lizards, pigs, crabs, wallabies, monkeys and even an ant colony. "American Airlines supports the rights of qualified individuals with disabilities and their legitimate service animals. Given the dramatic increase in the use of untrained emotional support animals in the last few years and the safety issues they create, however, American Airlines respectfully requests the Department prioritize the safety of passengers."
It's a proposed change supported by veterans like Aaron Mixell with the service dog training non-profit Patriot Paws. He survived an IED explosion while serving in Iraq but required multiple surgeries for a traumatic brain injury, had to learn to talk again, and has visual and physical disabilities that he overcomes with the assistance of his trained service dog "Chief." "The biggest challenge is people with uncertified dogs," he said of his time on commercial flights.
Dogs at Patriot Paws receive more than 18 months of training before they are certified to help their owners with physical and psychiatric issues. During our interview, Aaron Mixell's dog, Chief, trained to help Mixell with mobility issues, immediately stood up and placed a front paw on Mixell's foot when Mixell became somewhat agitated and excited during our interview. It is the dog's trained method of shifting his owner's attention and calming him down.
Chief wears a vest certifying him as a service dog. But, because anyone can purchase a similar animal vest, collar, or pet identification online claiming their pet is an emotional support animal, Mixell says the legitimacy of his own dog is often challenged in public. And he says other pets he and his dog encounter in airports and on commercial flights are clearly un-trained and do not meet the ADA definition of a service animal. "The most frustrating part is it waters down the legitimacy of my need for help," Mixell said. "It is angering to veterans when we have to battle stupidity as well and that's what it feels like."
"It frustrates me so bad because it's hurting those that really do need it," said Lori Stevens, founder and executive director of Patriot Paws. "The only thing I wish is that people would realize how much they're hurting the people with true disabilities."
While the American Airlines letter was sent to the U.S. Department of Transportation on July 5 and asks that the DOT align the definition of service animal with the ADA and permit only dogs that are individually trained to do work or perform tasks for the benefit of an individual with a disability, including physical, sensory, psychiatric, intellectual, or other mental disability – the current American Airlines rules on flying with emotional and support animals can be found here.
© 2018 WFAA
Source: https://www.wfaa.com/article/news/american-airlines-makes-plea-to-restrict-emotional-support-animals/287-574817356