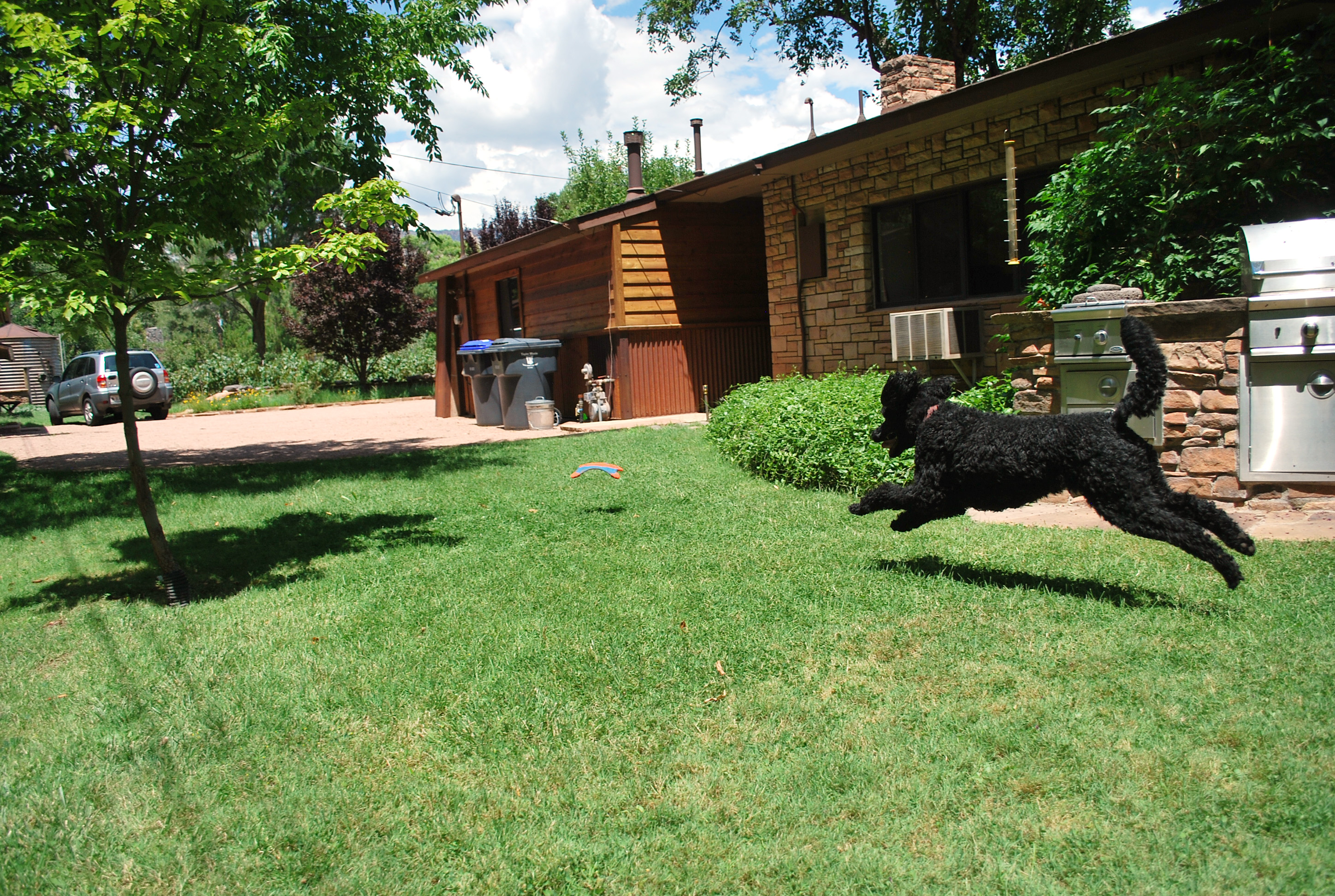 The response to my first column last week was very rewarding. Several people contacted me with positive responses to the column and questions. I thank all who responded, Most of the questions dealt with training. My dogs are not the most perfectly trained dogs because they are spoiled. I like them to be spoiled and so do they. But they are pretty well trained. I have a hanging plaque that says, "My dogs are not spoiled, I am just well trained." I guess that says it all.
Exercise — we all need it, right? But do we all get it — and do our dogs get enough of it? Particularly when it is so very hot. Also, many dogs are left alone all day out of necessity. Must be pretty boring. Just imagine it! Our pups will thrive with exercise and training — and suffer without it.
Another problem for dogs is the lack of freedom to run and play. Many of us live in neighborhoods where dogs must be confined (which is a good thing!), but many pets are confined to quite small areas, or no outside freedom at all. For many, the only outside exposure and exercise they have is dependent on our daily walks. Very sad. But they need those walks.
One of the great benefits of dog ownership is that they keep us moving — at least if we listen to them. I have a young lady in my household, she is 12 going on 4, who reads the clock and lets me know when it is time to get up, walk, eat, play, walk and have their Kongs. Yes — we all need at least two walks a day. I see people running with their dogs and I am jealous. Sure wish I could do that with my pups.
But besides the walks, the dogs need mental stimulation. Fun training sessions and games are great. Simple training exercises are always welcomed by our dogs if they are fun. Training should be fun, filled with lots of wonderful treats and praise. Remember, the treats are their salary for their work. We would not work without our salary, would we?
Training treats are vitally important but they must be absolutely wonderful. I like to buy the Natural Balance loaf, slice it and then cut it into one-eighth inch square pieces. These special treats are used only for training. (I am reluctant to give a brand name but it is one that I have used for years and the guys love them and love working for them. They are easy to find and easy to store in the fridge to have available when needed. In my training room, which is simply a nice sized room with a cement floor in my lower level, I have a CD player, a ton of fun music, simple props such as cones, to jump though, platforms and bowls to show off on and small carpet squares to teach them to move out and touch them.
For outside play, I have balls and a variety of stuffed creatures, which at least one of my guys is eager to pursue. Chasing the ball provides great exercise for BoJay, but does not require much energy from me.
In future columns, I will have wmore specific games and exercises for our dogs. If you have something especially fun that you do with your dogs, I would certainly love to hear about it and share it. In the meantime, get out there for a walk and throw the ball a few times. Your best friend will love you for it.
Christy Powers is a freelance writer who moved to Prescott in late 2017 and loves this pet friendly and human friendly, community. She can be reached at cpowerspak@gmail.com.
Source: https://www.dcourier.com/news/2018/aug/06/powers-exercise-and-training/