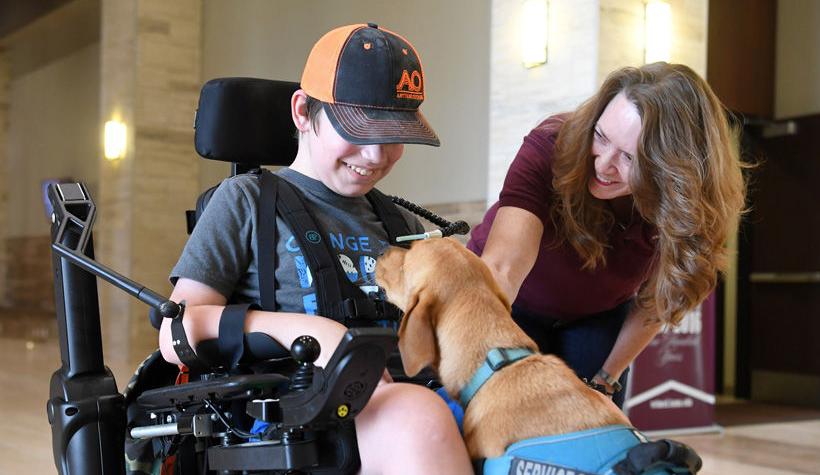 When Austin Stelly, a 14-year-old from Arnaudville, Louisiana, met College Station resident Kyle Cox while the two were receiving treatment at a Cincinnati hospital, he fell in love with Cox's service dog, Amber.
Just being around Amber brightened Stelly's day and made the teen — who, like Cox, has Duchenne muscular dystrophy — long for his own four-legged helper.
"He said, 'Mom, I'm feeling better, and I'm really interested in getting a service dog,' " Trina Stelly said.
But while the Stellys applied to nonprofits offering service animals only to not make the cut for various reasons, Kyle Cox, 22, and his mother, Kristen, were training one of Texas A&M's former research dogs to one day live with Stelly and help him with his daily tasks.
On Friday, Stelly — who thought he was headed to Waco to visit the Magnolia Market — was surprised with Astro, who greeted him by jumping up on his wheelchair.
"This gives us a lot of hope," Trina Stelly said after watching her son smile with Astro at his feet. "It just makes a difference in the quality of life for Austin. You don't always have that quantity of life, but you hope to enhance the quality of life."
Cox, a recent Texas A&M graduate, has grown up with DMD, commonly referred to as Duchenne. It's a rare form of muscular dystrophy that is characterized by progressive muscular degeneration causing limited mobility. Since third grade, he has benefited tremendously from the aid of a service dog, which can help those with Duchenne perform critical tasks such as opening and closing doors, picking up dropped objects, turning on lights and much more.
Cox's first service dog, a golden retriever named Bethany, changed his life.
"I remember when I got Bethany," he said. "I was really shy before that. Having her made me get more comfortable, and the wheelchair [became] only one aspect of my life. It didn't define me."
As Cox grew older, his family became more and more active with the Duchenne community across the nation, pushing for research legislation and networking over social media. They were pleasantly surprised during his time at Texas A&M to discover that the veterinary college conducts research on the rare muscle disorder.
"To sit in a room of 15 people who have no connection to Duchenne but are trying to save your son's life — that was an incredible meeting," Kristen Cox said.
She also struck up a relationship with Anita Richert, a Texas A&M veterinarian and College Station regional coordinator for the nonprofit Homes for Animal Heroes, which places healthy animals used in research with families and individuals. Those dogs often are adopted by those needing a service dog.
It is Richert's job to match animals with the perfect adopter. So far, she has placed 33 dogs from Texas A&M with families — her most recent placement with Stelly.
Astro is part of the research done on dogs with Duchenne, and like one-quarter of the puppies at the facility, he was born without the condition. Astro's parents and at least one of his litter mates did inherit Duchenne — something that holds significance to the Coxes, who spent the past few months training Astro to live as a service dog, potentially for a child with Duchenne.
When Trina Stelly realized the Coxes were training a dog for a child with Duchenne, she put in a request for her son to be the recipient. For the past nine months, the Coxes have been working to train Astro for his life with Austin.
Austin Stelly has known of Astro's existence and understood that the Coxes were training the pup to become a service animal, but he did not know Astro was intended for him. His family kept Astro a secret as Trina Stelly corresponded with Kristen Cox.
This weekend, Kristen Cox will help the Stellys become acquainted with Astro before the family leaves College Station. It's a bittersweet goodbye for the Coxes, but still a reason to be proud.
It's also a moment of satisfaction for the Texas A&M Duchenne research faculty and students, who were onhand to witness Astro and Stelly's meeting.
Trina Stelly said Texas A&M's Duchenne research means so much to people like Austin.
"We are so very thankful for this research," she said. "Without it there would be no clinical trials, and without those, no hope."
Source: https://www.theeagle.com/news/local/aggie-family-trains-former-texas-a-m-research-dog-to/article_601e3f5c-089f-50e7-a39d-6c75ba196736.html