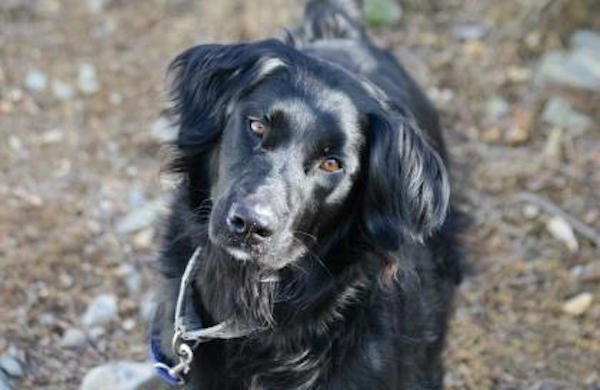 HalifaxToday, in partnership with the Dartmouth SPCA, brings you a regular feature highlighting a special pet that is in need of adoption.
*************************
Moose
This handsome guy was previously adopted from our shelter and due to some unforeseen circumstances his loving family needs to find him a new "furever" family that will be able to give Moose all the time and love he deserves.
Moose does have some separation anxiety so it is in his best interest that he be adopted from a home. His family provided us with a ton of great information to pass along to his new family.
Moose is a flat-coated retriever and turned two years old on June 8. He currently eats Presidents Choice Nutrition First Premiere, but would be okay to switch to a food of your choice. He is currently up to date on all his shots.
He loves to chew on rawhide bones and will share them with you, however, Moose does become guarded (possessive) with natural bones (the kind that the pet stores sell) so it would be best that his new home does not provide him with these.
He loves toys! Squeaky toys too. He will bring it to you for you to try and take it from him. Most of them he won't tear apart. He will tear tennis balls though. He doesn't chew on furniture and is not destructive at all. He is a very good dog.
Moose LOVES people (big and little) and other dogs. He has never been angry with any he's come in contact with. We've had him at the off leash park (Clayton Park) many times and he always has fun!
Moose has a good amount of energy and would be ideal for an active home where he can be a part of their daily routines. Moose would love to find himself a brother or sister to help prevent any stress when you go off to work for the day, or someone that is home often.
Moose gets anxious if he is left alone and will get very panicked and will pace, wine, cry, claw at a window or door to go with you. He is very fast so watch out. The owners believe that he would settle well with another dog in the home as he gets along great with them.
His name suits him as he is very strong and does require a harness/halti or other walking aid.
Moose does NOT like cats! He would not do well in a home with a small animal, and will also try to chase them if he sees them outside. He could use some work on his recall, especially if he is occupied playing with other dogs, but can be distracted with treats.
*************************
Unable to adopt? Share this feature on social media so each animal can get the exposure it needs and find a loving home.
To see past featured creatures who may still need adopting
click here
.
Source: https://www.halifaxtoday.ca/adopt-me/adopt-me-moose-gets-along-well-with-people-and-other-dogs-1002025