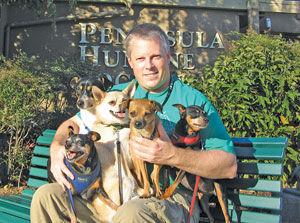 From taming rowdy rottweilers to helping with mobile adoptions and community events on the weekends, it is no wonder Tim Tyler was recently named the Peninsula Humane Society and SPCA's volunteer of the year.
Tyler became involved with animal rescue when he lived in Michigan about 10 years ago. As an owner of a miniature pinscher of "Min Pin,'ÄĚ Tyler worked with a national organization as well as a local Min Pin rescue organization. When he moved to California in 2002, he decided to volunteer at the PHS/SPCA.
At the PHS/SPCA, Tyler is involved with "a little bit of everything,'ÄĚ but specializes in working with dogs.
"I work a lot with the dogs that have issues, like aggressive dogs that aren'Äôt up for adoption yet. I'Äôll help evaluate them, try to come up with a training program for them and carefully work with them to get them to resolve whatever issue they have to the point where they can eventually be put up for adoption and live happily ever after in a home.'ÄĚ
After these once unadoptable dogs are taken to a caring home, owners can take them to the "Bully Breed'ÄĚ obedience class. Dogs such as rottweilers or pit bull terriers often need help with behavior due to fear aggression. Tyler will work with a bully breed dog and "get it to realize that the world isn'Äôt there to hurt it.'ÄĚ
Working with these dogs is both the most challenging but also the most rewarding part of his volunteer work, Tyler said.
"To see the dog make progress so it can actually be put up for adoption and then to actually see that dog get adopted out 'ÄĒ It'Äôs an awesome feeling.'ÄĚ
Tyler also fosters dogs that are not yet ready to be adopted. The dog could have a health issue, such as a broken leg or broken jaw, or it could have behavioral problems.
"By bringing it home, I can spend more time focusing on that particular dog and exposing it to a normal environment,'ÄĚ Tyler said.
Tyler is currently caring for one foster dog and two of his own Min Pins.
After working at a Silicon Valley aerospace firm during the day and coming into the shelter after work several days a week, how does Tyler spend his free time? With his dogs, of course.
Tyler walks his dogs daily and spreads the word about fostering and adopting dogs from the PHS/SPCA. He even posts information about shelter events such as seminars and training classes in dog parks and updates Web sites like Petfinder.com on the animals that are currently available.
Tyler said that when he walks his dogs, "one of the things that I hear a lot is 'ÄėOh, I wish I could [volunteer] but I'Äôd want to bring them all home with me.'Äô That'Äôs a common response, but everyone who does volunteer there kind of feels the same way. 'Ķ These people need to get over this emotional hurdle and be able to actually come in there and do it.'ÄĚ
If nothing else, Tyler said, people should attend one of the PHS/SPCA's volunteer orientations to learn about the volunteer opportunities without making an immediate commitment.
"The reality is, the good will that they have isn'Äôt really helping the animals. It'Äôs people who can get over that and go there and actually do it and walk the dogs or play with the cats,'ÄĚ Tyler said. "I really recommend that people at least attend the initial orientation process and not let their own emotions stop them from giving it a try.'ÄĚ
Despite the emotional hurdles that one often faces when volunteering, Tyler loves to experience the results of his hard work.
"Sometimes it'Äôs sad going in there day after day and seeing that same sad pit bull sitting there, waiting to be adopted. [It'Äôs] a dog that you'Äôve worked with and you know it'Äôs just a wonderful, happy, friendly, loving, affectionate, playful dog. It can be tough, but the nice thing is, sooner or later, when you'Äôre there, you may be lucky enough to see that dog actually being adopted out. To see it walk out the door, very happy, with a new family that'Äôs all happy too 'ÄĒ that sort of thing really makes it worthwhile.'ÄĚ
Source: https://www.smdailyjournal.com/news/local/a-volunteer-s-tail/article_611577f5-f859-5c29-a2b1-395e396d990f.html