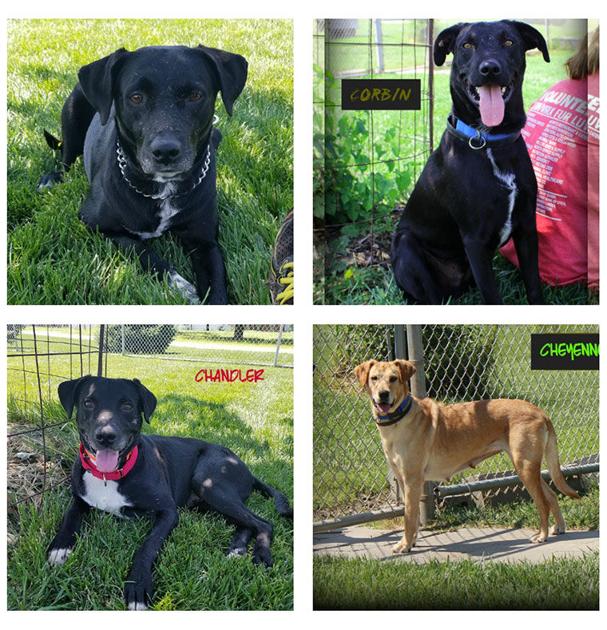 Among the dogs currently available at York Adopt-A-Pet, there are four that are desperately in need of that special family; a family with enough love, patience and time to restore their trust in humans. These four had the misfortune of growing up in a hoarding situation where no love, no affection, no personal attention came their way. Hard lessons to learn, even harder lessons to be unlearned.
Their names are Chandler, Corbin, Cheyenne and Carmen and they have been at YAAP since June.
Kim Hart, kennel manager, had been contacted in late May regarding a hoarding situation and shelters were needed to take the dogs that had been badly neglected.
There were 33 dogs that needed rescuing, 33 dogs who deserved better, who needed people to step up and do what needed to be done. Having the heart of a dedicated rescuer, Kim agreed to take four, all the available space she had at the moment.
"These dogs were terrified upon arrival at the shelter." Kim said. "They would shiver and shake if you even looked at them. We knew we would have to go slowly."
The first step on the long road back was to get their vet work done to take care of all health concerns including the welts and sores from fly bites that covered their heads and faces.
Once their health concerns were under control, the next step was socialization training, a slow process for dogs leery of human contact. For the most part, they would cower in the back of their kennels when anyone approached, but one day, as Kim sat outside in the pen with Chandler and Carmen, Chandler nosed his way up to Kim and put his head under her arm. Baby steps but hope was alive.
That hope, however, was short lived. The next day, on July 8th, Chandler and Carmen somehow found a way to tunnel under a chain link fence and were on the run, frightened of the absolute freedom they had never had and with no idea where to go.
"For three weeks we tried everything to get them back," Kim said. "I was face to face with them several times, but they were scared. They didn't know me well enough to come to me. We set traps but unfortunately they got out of the first one. We were getting discouraged."
There was no shortage of volunteers searching, walking through fields, driving around the many areas where they had been spotted, and offering suggestions. A member from the Central Nebraska Humane Society offered a trap that the Grand Island facility had used. It was set in the location the pair had last been spotted and for several days food was left around the area of the trap, hoping to lure them in. They got to love cheeseburgers!
"We set the trap on the night of the July 29th. Noelle Mandeville checked the trap the next morning and Chandler had been caught. I received a call from Noelle very early that Monday morning so I went right out, helped her get Chandler out of the trap and safely back to the shelter. I reset the trap but that night a storm brewed up and we got lots of wind and hail. Right after the storm my husband Tom and I went out and found that Carmen had been in the trap but she must have gotten scared in the storm and ripped the front of the trap out. I was getting very frustrated as we had been working on this for three weeks and the dogs always seemed to get away somehow. We fixed the trap by wiring it all back together and then reset it. I let volunteer Michelle Brugh know as she was watching the trap at night for us. She went to check at 11 pm on the night of July 30th and Carmen was in the trap. She called and I jumped out of bed and rushed out there. It was apparent immediately that Carmen wasn't going to make things easy for us. Every time we tried to open the trap she tried to go out the other side. We decided I would go back to the shelter, get the YAAP van and we would load the whole trap with her in it. Michelle stayed to make sure Carmen didn't find a way to get away again."
Finally, after three weeks of so many anxious moments and with the help of countless volunteer searchers, both dogs were back at the shelter, super happy to be reunited with each other.
But their trust issues continue. Blessed with loving personalities and amazingly, not an aggressive bone in their bodies despite their history of neglect, they remain inside a kennel, with outside trips three times a day and at least one dedicated volunteer who visits them daily. Judy Johnson hopes one day they will welcome her with tails wagging and a spring in their step.
"What they need," Judy said, "is for some family to just take them in and give them the time and space they need to learn to trust."
They are beautiful dogs, Judy said, who just need consistent human contact and lots and lots of love.
Kim is quick to give credit to all the volunteers, all the tips as Carmen and Chandler were spotted and all the suggestions, good thoughts and prayers.
"We need to thank the whole community who came together to help in their rescue." Kim said. "We have never worked with dogs this scared before. It was truly a learning experience."
But the story of Chandler, Carmen, Corbin and Cheyenne is ongoing. The final chapter will be written when the right person, the right family comes along for each of them and they finally have a home filled with love and respect, when they have their own fenced yard where they can run freely and lose the fear and distrust that has dominated their lives. Anyone willing to step up to spend the time to claim the hearts of any one of the four gentle beauties will be rewarded with the faithful love that only a dog can give.
Visitors are welcome; stop in and meet them. They are sitting in a kennel waiting, hoping a forever home is in their future.
Source: https://www.yorknewstimes.com/news/a-paws-for-pets/article_a91a3d6a-acd5-11e8-aba0-d705ad1d652c.html